On The Brink
Head Start watches the shutdown clock
| 10/9/2013, 12:19 p.m.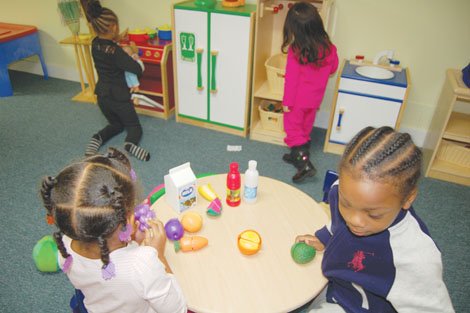 Leaders at Portland's Head Start program are worried about the possibility of shutting down for the year if Congress does not soon reach an agreement on the budget and the looming debt ceiling.
Ron Herndon, the director of Albina Head Start, said when the federal funding for Head Start runs out at the end of the month, the Portland program will no longer be able to continue serving its preschool children of low-income and under-served families.
Herndon said the situation was worse than the last government shutdown in 1995.
At that time, Head Start was in the middle of their funding calendar, so federal dollars were still available to keep it afloat. The current financial crisis comes just as the budget calendar for Head Start was set to begin.
"We have not gotten our grant for the next year, so that means there is no money to pull down at the end of this month," he said.
Herndon said it takes about $600,000 a month to run Albina Head Start which serves more than 1,000 children and families.
Despite trying to keep a sense of normalcy at the program, he says parents have come to him expressing high anxiety over the possible shutdown.
"Many of the parents are single-heads of households, the overwhelming majority, 99 percent are women. And it's only because of this program that they are able to go to work, or to a training program. Several of them have two jobs. So if this falls through, you're just throwing an additional burden on the back of some of the most vulnerable families in Portland," he said.
Albina Head Start also provides immunizations, vision exams, hearing exams, all free of cost. A shut down would force these families to find other avenues to provide basic health services for their children.
Responding to critics who say a shutdown will force families who rely on Heat Start to "pull up their own bootstraps," Herndon dismisses the argument as a disingenuous, pointing to the G.I. Bill for comparison, a federal program which paid for the college education of World War II veterans.
"The majority of the white middle class that developed in this country, developed after World War II, and it did so because of the G.I. Bill," Herndon said. "So now all of a sudden you're saying there shouldn't be programs for fragile hard-working families?"
He also points to a study that came out during the last decade which named Head Start as the primary conduit for lowering the childhood mortality rate in the entire country for kids aged 5 to 8.
Head Start children "are less likely to go into Special Ed, less likely to be retained a grade, more likely to graduate, healthier, go to college, and stay out of the penal system. The research is compelling this is one of the best investments we could ever make," he said.
--Donovan M. Smith