New Lease on Life
Funding raises hope for 'Village Market'
| 10/16/2013, 10:41 a.m.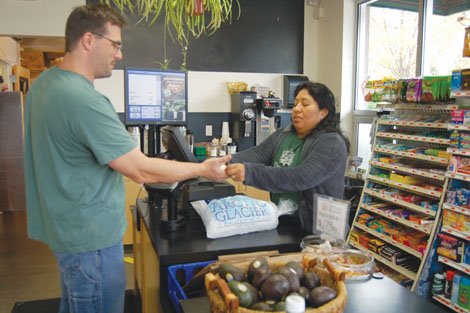 A community grocery store in the New Columbia neighborhood of north Portland has a new lease on life thanks to an economic development boost from government agencies.
Village Market, operated by the nonprofit Janus Youth, was awarded $75,000 by the Portland City Council on Thursday in the hopes that the store can survive financially and continue to bring healthy food and jobs to low-income residents.
The grant gives the first-of-its-kind grocery store some much needed stability, said store manager Ryan Schoonoover.
When Janis took over the store at 4632 N. Trenton two years ago, officials hoped the market would be self-sustaining within four years.
The grocery is considered a major asset for the former Columbia Villa neighborhood, both as an employer of local residents and as a model for healthy food access in underserved areas.
Trevon Oliver, a courtesy clerk at the market for two years and a New Columbia resident, went downtown to pick up the $75,000 check. He says the money will open more doors for youth and people who live in the area.
The city's backing gives him hope for the future, saying "I want to see more of this store prosper over the years, even open another store somewhere else in the future."
Janas reports that it spends about $400,000 a year to run Village Market. Home Forward, formerly Housing Authority of Portland, owns the retail space and does not charge the market rent. In the first year of operations, the city donated $50,000 for the market, and Multnomah County gave $35,000, officials said.
--Donovan M. Smith