Re-imagining the meaning of family
Inspiring film deserves an audience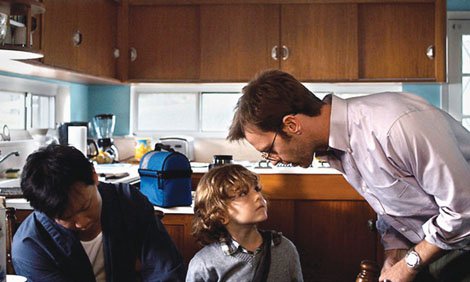 As a result, Joey's dilemma seems all that much more unsolvable. The groundwork laid in the film's early scenes establishes for us that separating Joey and Chip is a tragedy, but in this time and place it seems a truly unsolvable one.
Cody's never-updated will -- an apt metaphor -- has left his sister in charge of his property and his son, so she now wields the power to take away everything that has meant home and family to Joey. Joey's truth gives him no standing to assert it, and a succession of lawyers tell him he has no case.

And here is where the suspense comes in. After months of banging on closed doors, Joey receives an offer of help from a most-unlikely source: a retired judge who seems a card-carrying member of the good-ole-boys' club. Yet this good man provides an extremely rare example of a person who puts the law in a proper perspective, who looks beyond the surface to its intended purpose, and imagines how to use the law to move beyond what currently seems possible to what is just and true. It's the most inspiring legal story I've seen since "To Kill a Mockingbird."
I wish I could find a way to make this film required viewing for anyone who dares to opine about gay marriage. More effectively than any argument, Wang's inspired work invites you spend some time sitting with the experience of an outsider and contemplating what is really true about his experience. It invites you to think more deeply about the meaning of family. And particularly if you are a lawyer or judge, it challenges you to look beyond our collective failures of imagination to where the law might also point the way. It's hard for me to imagine a better investment of three hours.
Darleen Ortega is a judge on the Oregon Court of Appeals and the first woman of color to serve in that capacity. Her movie review column Opinionated Judge appears regularly in The Portland Observer. You can find her movie blog at opinionatedjudge.blogspot.com.