Relating to Race
Educators convene to learn about culturally responsive teaching
| 10/16/2013, 10:47 a.m.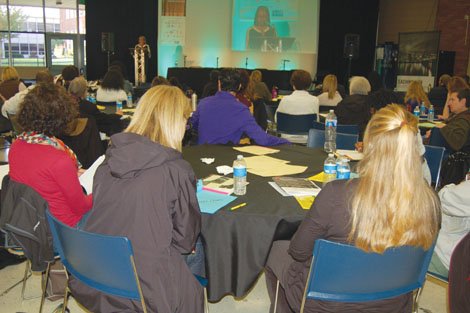 Over 300 educators from across the state of Oregon convened on the campus of north Portland's Roosevelt High School for the fourth annual Teaching with Purpose conference.
Teachers attended various workshops over two days on Friday and Saturday that were intended to increase their ability to instruct students in a culturally effective manner and help students of color excel academically, closing an achievement gap between white and black students.
Karanja N. Crews, an African-American educator and Portland native who created the conference, says his biggest hope was for the mostly Caucasian educators, who represent over 90 percent of the state's teaching force, to learn valuable and effective techniques on teaching pupils of color that can then be brought back to their respective schools and classroom.

Elise Bradley and Ron Morgan, educators at Oliver P. Lent School in southeast Portland and members of the institution's equity team, were an example of the teachers who participated in the sessions. They attended the hip-hop artifacts workshop, for example, which tied in images of white supremacy from the days of confederacy to how hip-hop culture is often marketed now.
Morgan, a lifelong hip-hop fan and also a white male from the suburbs, says his knowledge of the rap culture brought him a sense of awareness to the overt social and financial oppression of inner-city populations. He found that the Teaching with Purpose workshops brought him even more context to the condition of African people globally.
"It's just really powerful to see the connection of where racism kind of started against black people here on this continent or in this country and how that moved forward with social rebellion, empowerment, and activism and right into the hip-hop music of 2013. The presenter did a great job in a short amount of time to really make those connections," Morgan says.
A third grade teacher himself, he says white teachers in general sometimes don't see a cultural connection from the past "like 400 years ago or whatever, that could be relevant to what's going on today in the classroom."
Workshop leader Khalid El-Hakim who tours the world as an expert in culturally effective teaching methods for students of color, brought out actual chains that were used on enslaved people in America.
Bradley said she was brought to tears upon seeing the shackles.
"That was insane," Bradley says. "Having a learning experience where I was totally engaged and having a strong memory of what I learned that I can take that with me. That was the most successful."
--Donovan M. Smith