Combating a Legacy of Racism
Event remembers immigrant 25 years after his death
10/30/2013, 11:23 a.m.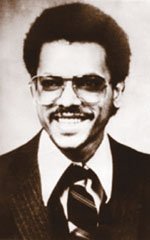 On Monday, Nov. 4, the life of Ethiopian immigrant Mulugeta Seraw will be remembered 25 years after his death. Seraw was in Portland to attend college when he was confronted by three white supremacists and beaten to death in front of his apartment on Southeast 31st Avenue on Nov. 12, 1988. One of the men claimed that he and the two others killed Seraw "because of his race."
After two convictions of manslaughter, Seraw's father and son successfully filed a civil lawsuit against the killers and an affiliated organization, holding them liable for the murder. They were represented at no cost by the Southern Poverty Law Center and the Anti-Defamation League, and won a civil case against White Aryan Resistance's operator Tom Metzger and his son John Metzger for $12.5 million.
The History Night presentation "Remembering Mulugeta Seraw: Portland's Legacy of Racism and Combating White Supremacy" will be held at 6 p.m. at the McMenamins Mission Theater, 1624 N.W. Glisan St. The free and open to the public event will examine racial history in Oregon and will discuss how Portland citizens are combating racial discrimination today.
Speakers will include Portland State University educator, spoken word artist, and organizer Walidah Imarisha; journalist Elinor Lager and author of "A Hundred Little Hitlers: the Death of A Black Man, the Trial of White Racists, and the Rise of the Neo-Nazi Movement in America;" and Western States Center Executive Director Kelley Weigel.