New Visions for the Techmen
Benson principal moves to shore up signature programs
| 10/30/2013, 11:30 a.m.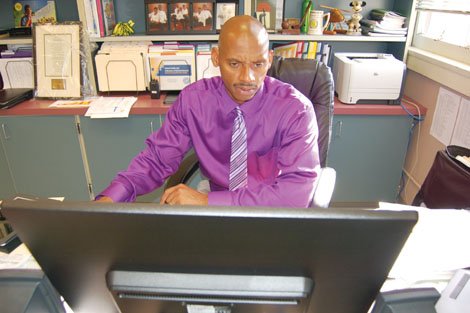 Curtis Wilson Jr., the new principal of Benson Polytechnic High School, may not need an introduction for many in the Portland area.
With 23 years under his belt working in the Portland School District and a Portland native who graduated from Roosevelt, Wilson has seen many-a-classroom during his impressive tenure. Now he has his first job as a school principal at Benson after serving as vice principal at Grant.
Wilson, 43, says he wants to return the 96-year-old tech-centric institution to a place that has historically been associated with academic rigor and excellence.
"I want to bring back Benson to where people are challenged to come here, where they know if I come to Benson I'm gonna work. Because it's hands on, the courses are very intense, and it's a very rich tradition school," he says.
And one of the ways he says he's hoping to accomplish his goals is by focusing on bolstering the school's Career Technical Education (CTE) program. The aim is on the technical sciences the school was founded on, subjects today which include engineering, manufacturing, computers, and new technology.
The instruction comes with hands-on situational learning. Currently the technical education students, for example, are teaming up with geometry learners to build a house. The structure will serve as a drug and alcohol free safe-haven in the transitional housing community known as Dignity Village in northeast Portland.
This year, Benson is also adjusting to a new 850 enrollment cap. It was forced to turn away 59 students after it reached the limit after a so called "lottery" where kids have to apply to get in. Wilson says this comes as part of a district strategy to get kids and parents to focus more on their neighborhood schools to instill a sense of pride he says has been missing from some of Portland's public high schools.
Another big change on the horizon is a proposal set forth by new district athletic director Marshall Haskins that would return all of the high schools to the state 6A level with one Portland Interscholastic League. Wilson says a unified PIL will galvanize participation in cross-town interactions between students.
"When I was in high-school, I went to Roosevelt, and we looked [forward] to playing against Benson, I knew friends that [came] to Benson. You saw these same people hanging out at the mall, because everybody went to the same spot. So you would have a game against Benson on a Friday, and see them at the mall on Saturday and talk about what happened," he says.
He says the natural rivalries between schools create a kind of energy that will excite students, parents, alumni, educators, and administration alike.
Wilson also brings his experience as a former track and cross country coach and health teacher to the table. He has a master's degree in health education.
One subject of interest regarding the new leader is a particular distinction he says he was not even aware of until recently. He is the first African-American principal at Benson.
"It was kind of flattering at first," he says, "but then 10 minutes later I was back focused on work."
During his past employment at Grant High School, he was responsible for establishing a Black Student Union that created a partnership between a Parents of Students of Color group and school administrators to increase parental involvement and foster healthy practices of equity among the staff.
Now as the top administrator at Benson, Wilson says the school's ethnically diverse students serve as a reminder to him to establish an institution where kids go to achieve their dreams. He hopes the kids see a tangible model in his own accomplishments to aspire in the technical and occupational fields they most desire.
--Donovan M. Smith