Gender Oppression Confronted
Our Opinionated Judge examines 'The Tenth Muse'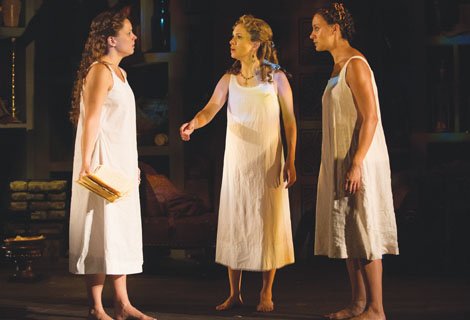 Originally asked to adapt House of Desires for the Oregon Shakespeare Festival, Saracho ultimately opted to locate this play around a story that explores Sor Juana's influence and also the complicated class differences and gender oppression that characterized women's experience in colonial Mexico.
This history feels important to know about. Oppression has a way of reverberating through later generations, a phenomenon that is evident in the nuns' varied reactions to Sor Juana's legacy.
The sisters in the play have a range of ideas about the importance of hiding or protecting her words; the Mother Superior for example, is fiercely determined to keep the focus of the Inquisition away from the convent. Though harsh, her approach makes some sense in light of the dangers the convent faced when Sor Juana came under scrutiny.
After living a privileged and productive life of letters inside the Convent of San Jeronimo for many years, Sor Juana suddenly became a target for political reasons and was pressured to renounce her previous writings and sell her extensive library, which was one of the largest in the New World.
Other sisters in the play more obviously carry grief over the loss of freedom of thought embodied by Sor Juana, a brilliant thinker and writer at a time when women's education was considered dangerous and unnecessary.
The reverberation of these struggles for the women in the play--along with the insidious mechanics of the racial oppression depicted--suggest how this history continues to ripple into our current experience.
This beautiful play also wrestles soulfully with the human desire for expression and the struggle to find one's voice when expression itself is considered dangerous and threatening to those in power.
One of the sisters especially, Sor Isabel, chafes at the confines into which the sisters have retreated in the wake of the controversy surrounding Sor Juana. Her agony over the limits of expression allowed to her is treated as a kind of illness, a perversion commonly experienced by those who are awake to the losses associated with enforced silence.

For me, though, the heart of the play is Tomasita, the Indian woman who has learned to keep silent and watchful. Beneath her observant exterior lurks hard-won wisdom about her circumstances, and deep longings that she scarcely dares to acknowledge.
If you can make it to Ashland this fall, don't miss the opportunity to sink deeply in this rich history. You may find, as I did, inspiration and consolation for your current experience.
Darleen Ortega is a judge on the Oregon Court of Appeals and the first woman of color to serve in that capacity. She also serves on the board of directors for the Oregon Shakespeare Festival. Her movie review column Opinionated Judge appears regularly in The Portland Observer.