Shaking Up Sports
Haskins looks to re-energize school programs
| 9/4/2013, 10:56 a.m.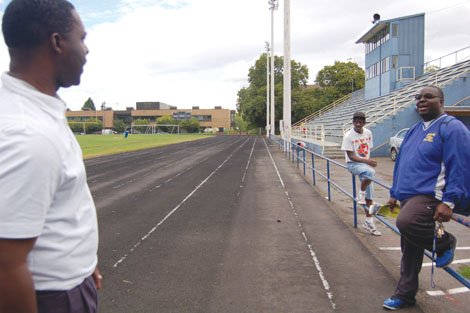 Portland Public Schools recently named community fixture Marshall Haskins the new athletic director of the district and he has already come through the door shaking things up. Less than a month into his post he put forth some radical proposals that however unofficial and unlikely to be put into play, create the thing Haskins desires most at the moment; dialogue.

The proposals that aren't going to be implemented? No sports at Benson High School; and Jefferson and Roosevelt teams merging. Those were just a few of the ideas that put the new athletic director on the hot seat when they became public last week.
Haskins, 50, says the ideas were only mentioned to raise the profile of sports in Portland's schools while also increasing the educational successes of local students.
Tuesday, he told the Portland Observer that the proposals were never intended to be pursued.
"Part of my job is to open the conversation about what we can do to improve," he said.
Working to raise the visibility of athletics in the city, Haskins is hoping to create a mutual and positive relationship between sports and education.
"There are skills that kids learn in athletics that are just as valuable as what they learn in a classroom if not more," Haskins says.
Haskins recently succeeded Greg Ross as athletic director after Ross retired following 16 years in the position. He is the first-ever African American to hold the job in the state of Oregon.
The lifetime Portland resident and Jefferson alumni has long been committed to supporting youth. Before being appointed athletic director last month, Haskin's was vice principal at Jefferson, Wilson, and Franklin high schools. He coached two state championship basketball teams at Jefferson, and worked at the youth-centric non-profit Self Enhancement, Inc., as vice president for 15 years.
Haskins said sports and education share a symbiotic relationship where both need each other to survive. The students competing must be passing classes to participate, he said, and if they are not meeting the grade, the young student athletes will be placed in a tutoring program in collaboration with their schools, coaches, and parents.
Plans to increase the number of female and disadvantaged youth who participate in athletic programs are also part of the new athletic director's vision.
Increasing the participation of parents in their children's academic and athletic life is something he has already made moves to achieve. Less than a month into his post, Haskins assembled a parent advisory meeting that will continue to meet quarterly. Parents from every school in the district are welcome as they discuss a range of topics in relation to making sports better for the kids.

Currently, sports in Portland schools face three major deficits, according to Haskins. He lists the issues as a lack of athletic trainers; transportation cuts which make it more difficult for teams to get to away matches; and a shortage of coaches for freshman teams who often have students who are just learning a sport.
To have a successful year, Haskins says the school district will need to raise about a combined $1.2 million for sports programs. He approximates the ball-park figure to how much the state has cut from sports funding in the last 5 to 10 years.
"We want to restore the P.I.L. [Portland Interscholastic League] back to its glory days," he says.
Haskins has full confidence that an invigorated sports league can happen but only with the emotional and financial support from a wide range of people.
"If we have parents and whole communities coming together to support kids, fundraising won't be an issue," he says. "We've started the conversation, so out of it should come some possible results that again will make sure kids have their academic choice and athletic opportunities across the board in our district."