Painful Truths
Oregon Shakespeare Festival wades in where angels fear to tread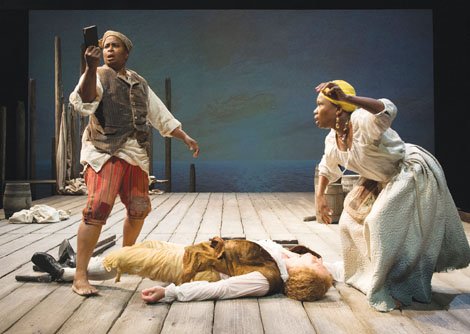 In 1791, John Cranston, a sailor on one of Captain Jim's ships, testified to a federal grand jury that the captain had thrown a nameless woman overboard while she was still living because she had become seriously ill with what was thought to be smallpox. The grand jury indicted the captain for murder, but later testimony supported his actions as necessary to save the ship's cargo -- that is, the other slaves -- and he was ruled innocent and went on to greater wealth and power.
The real Cranston disappeared into history -- but, though well-played by Danforth Comins, the play itself doesn't satisfyingly resolve the questions raised by his place in the story. One wonders what motivated the real Cranston, who surely would have been of a lower class than the wealthy captain, to speak out against his actions. It's not hard to believe that, as portrayed here, he was more crude than a moral giant, a product of his time and class -- but the play relegates him to a type and doesn't wrestle with the complexities embedded in his story.

A scene late in the play includes an encounter between DeWoolf and a free black woman with connections to the drowned slave and to Adjua and Dembi. Though also not entirely satisfying, that later scene nevertheless contains some of the play's deepest moments.
Though it didn't strike me as a believable representation of an encounter that could actually have happened, the scene resonated as an imagined conversation in some alternate universe between a slave descendent and a man speaking from his internalized justification for his role in a horrifying system of oppression. Their exchange evokes a kind of agonizing recognition of how such thinking reverberates in our current consciousness.
Perhaps the celebrated playwright, Naomi Wallace, was overly ambitious in the number of themes her play took on. It's difficult, even with more than 150 years perspective, to make sense of how people reconciled what they did to their fellow human beings and why a small subset of whites showed themselves to be capable of higher thought.
Nevertheless, the play has moments of real poetic insight, and its players have entered into the work with commitment and intention. They usher the audience into the experience of reflecting on our shared past with a reverence for its complexity.
Darleen Ortega is a judge on the Oregon Court of Appeals and the first woman of color to serve in that capacity. She also serves on the board of directors for the Oregon Shakespeare Festival. Her movie review column Opinionated Judge appears regularly in The Portland Observer.