Restoring 'Lost' History
Marker to mention first black visitor to Oregon
| 9/10/2013, 4:32 p.m.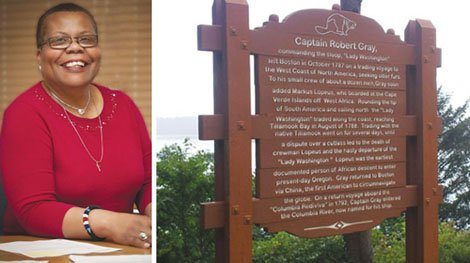 A trip with the grandchildren became something much bigger for Gwen Carr as she cruised along Highway 101. She stopped on the side of the road at a historical marker near Tillamook hoping the sign would include a most significant piece of Oregon's black history. To her dismay that story was not included. She was searching for the story of Markus Lopeus, the earliest documented person of African descent to set foot in Oregon.

The marker told the story of Captain Robert Gray and the sloop Lady Washington's 1778 landing at Tillamook Bay. In the text of the sign, it mentioned that the captain and his crew "hastily departed from the bay area after a fight with the Indians in which one of Gray's crew and several Indians were killed."
That crew member was Markus Lopeus. She knew this from being vice chair of the organization Oregon Black Pioneers and had often recounted this story in various presentations for the group.

She quickly turned her dismay into action. Following her trip, Carr placed some calls within the heritage community to see about updating the sign. Annie Von Domitz at Oregon Travel Experience was referred to her.
Domitz told her in order to make the change she would have to become part of the volunteer group; she joined without hesitation.
Almost as if fated to happen, that very Tillamook marker had broken off from the ground in a violent storm just months after she had placed the initial call. As a result the sign was in need of updating even sooner.
She learned all she could about Markus Lopeus and leaving no fact up for debate, Carr went as far as submitting research from African-American history professor Dr. Darrell Millner at Portland State University to the Oregon Historical Marker Committee to prove the validity of Lopeus' legacy. Her work paid off.
On Thursday, Sept 12, the travel experience group will celebrate the Oregon Historical Marker Committee's restoration of the Captain Robert Gray marker with a formal dedication on the site. The text will now include information about Lopeus.
"We are pleased that this important piece of Oregon's history has been added to the historical maker. It commemorates the earliest documented instance of a person of African descent being in Oregon and serves as a memorial for those who came before and after; whose names and circumstances will never be known."