Gatewood's Farewell and Thanks
9/11/2013, 2:52 p.m.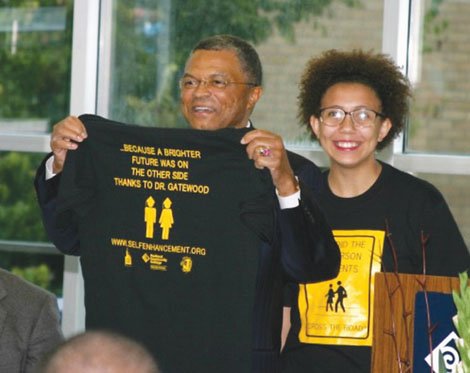 Algie Gatewood, president of the Cascade Campus of Portland Community College, was honored during a public farewell party Thursday and then thanked by the Portland Public School Board during its meeting Monday.
The board gave Gatewood credit for being an essential force in forging the Jefferson High School Middle College for Advanced Studies partnership in which Jefferson students can earn as much as an associate's degree at PCC-Cascade - for free - while completing their high school diploma.
When Jefferson expanded the Middle College program to all students in 2011 as part of high school system design, Gatewood successfully reached out to the University of Oregon, Oregon State University, Portland State University, Warner Pacific College, Pacific University and Willamette University to guarantee full tuition scholarships to eligible Jefferson graduates to complete bachelor's degrees.
Gatewood is leaving PCC to lead Alamance Community College in North Carolina. Craig Kolins, dean of instruction for the PCC Southeast/Extended Learning Campus, was named interim leader at Cascade on Monday while a national search for a permanent president takes place over the next year.