Haskins Proposes Return to PIL
| 9/11/2013, 2:47 p.m.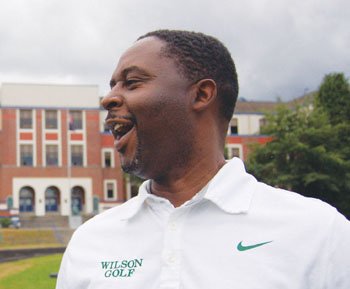 Portland Public Schools' newly named athletic director Marshall Haskins held a news conference Friday to announce a formal proposal to have all of the district's high schools to compete at the 6A level, the highest sports ranking in the state as part of "re-establishing" the Portland Interscholastic League.
The Portland Observer featured Haskins in a front page profile article last week in which he mentioned that he working to raise the visibility of athletics in the city through major reforms.
His proposal suggests that competing in one league under the same 6A level will strengthen all sports programs, eliminate inequities across high schools, reduce travel costs, and rejuvenate traditional rivalries thus re-energizing community and alumni support.
"I think the ultimate goal is to create a robust successful athletic program. The best in the West. Quality coaches, facilities, district competition, and state competition," he said.
The public is invited to a public information hearing on the league proposal at Franklin High School in southeast Portland on Wednesday, Sept. 18 at 6:30 p.m.