Tragedy to Awareness
Family's grief raises profile of sickle cell anemia
| 9/11/2013, 2:57 p.m.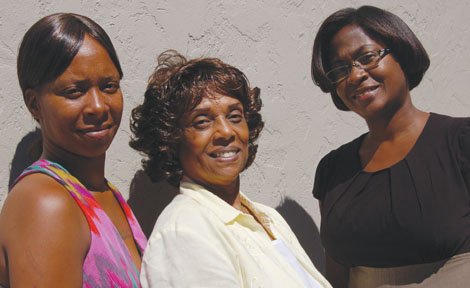 Reader poll
Pamphlets

33%

Non-profits

33%

Know somebody affected

0%

Internet

33%

Hearsay

0%

Other

0%
3 total votes.
In 1987 Pastor Marcia Taylor started a support group out of the living room of her Portland home for individuals and families struggling with a disease that afflicts thousands of lives every year; sickle cell anemia, the notorious blood disorder causes normal red blood cells to form a sickle-like shape, increasing the difficulty for blood to pass through the body.
If untreated, the disease can cause a host of problems ranging from spleen damage, kidney problems, stroke, and even death. And often times a lack of treatment can be pinpointed to one crucial component; a lack of diagnoses.
Pastor Taylor found out her newborn, Ramona, had the disease just months after her birth. One night when Taylor kissed her child, she realized she had a very high fever and rushed her to the hospital. It took all day and many medical tests for doctors to determine the cause of Ramona's illness was sickle cell. The year was 1961. The swift detection helped doctors and Taylor do all they could to help treat the disease though she was gravely ill and they didn't know if she'd survive.
Taylor was trained by Dr. Robert Bigley and Dr. Robert Koler, two top geneticists at Oregon Health Science University to better her understanding of sickle cell and become an expert herself. She brought in top Hemotologists, such as Dr. Elliot Vichinsky of Oakland Children's Hospital and another from Denver, holding seminars at community hospitals to promote and foster better treatment of the disease by enhancing critical knowledge.

Students were tested and families educated and informed after transforming her support group into a full blown organization; formally known as The Portland Sickle Cell Anemia Foundation, which is now the Sickle Cell Anemia Foundation of Oregon. From the foundation, she's been able to provide a plethora of resources to people impacted by the disease.
Despite her knowledge and continued medical care, Taylor's daughter continued to suffer gravely. At the age of 37, Ramona passed due to complications from sickle cell anemia.
Taylor's now adult granddaughter, TaNieshia Taylor, remembers having to tend to her mother, even removing IV's from her ports and witnessing the symptoms become unmanageable. The fatigue weighed heavy and the pain excruciating. In spite of the trauma, TaNieshia says she is mostly thankful for the 16 loving years that she had with her mother, being part of her care, and learning about the disease.
"I was lucky in a way with it already being known that my mom had it, but for a lot people they don't even know what warning signs to look for, and that's the problem," she says.
Patients can benefit from crucial early treatment. Tiffani Moss, a recent Portland transplant, became aware early on that she has sickle cell anemia and has been able to get the medical care she needs. Because she has high fetal hemoglobin, she has had few painful episodes. Other victims of sickle cell can work and live somewhat normal lives.
Moss now works closely with The Sickle Cell Foundation of Oregon. At 34, she says her day-to-day activities go unhindered; she is even able to work 40 hours a week at a research facility despite carrying the full blown version of the disease. This is the other side of a rare coin.