Lesson in Mindfulness
Our Opinionated Judge on the poetic film 'Museum Hours'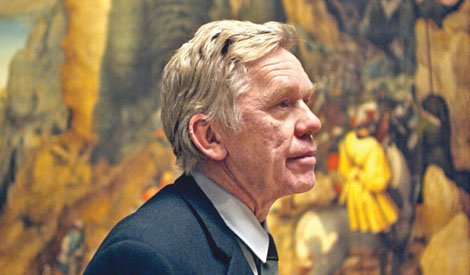 An extended sequence in the Bruegel room helped me to sink deeper into the film's reverie. A docent guides a group of patrons to notice Bruegel's canvasses filled with humble, working people engaged in ordinary or odd activities.
The eye is not drawn to one central activity or scene in these paintings, even though among them might be something deemed important, like the conversion of the apostle Paul or Jesus carrying his cross to Calvary. Those scenes take place in the midst of scores of ordinary scenes, and are accorded no more than ordinary significance. Something about this sequence helped me to let go of wondering about the film's destination and meaning.
The film itself is like a Bruegel painting, not telling you where to look or what to think in the way most films do. It ushered me into a sort of mindfulness. I felt a willingness arise in me to simply be present with the beauty, and the dinginess, and the cold, to listen to the quiet of the museum, to the sounds of the street, to the aching loveliness of Anne singing to her comatose cousin, to Johann remarking in German to a colleague.
I was happy to linger over junk and treasures in a street flea market, to wonder about a discarded doll or knick-knack, or a photo of a man carefully posed but now anonymous.
Johann and Anne treat their friendship with care. His existence had grown a bit lonely before she arrived, yet they do not cling to or name their connection. When she prepares to leave the city at the film's end, they know it is time.

I sat watching the credits, as is my habit -- and suddenly I began to weep (not my habit during the credits). I felt as though emerging from an extended time of contemplative prayer. As with my richest meditation experiences, I emerged feeling open and deeply connected.
In the end, for me, writer-director Jem Cohen's brilliant, poetic film works as a kind of guided meditation, a lesson in mindfulness.
Museum Hours is playing through Thursday at Living Room Theaters, 341 S.W. 10th Ave.
Darleen Ortega is a judge on the Oregon Court of Appeals and the first woman of color to serve in that capacity. Her movie review column Opinionated Judge appears regularly in The Portland Observer. You can find her movie blog at opinionatedjudge.blogspot.com.