History Can Move in Two Directions at Once
My grandma's words have guided me
Benjamin Todd Jealous | 9/18/2013, 12:25 p.m.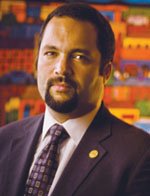 In her simple way, my grandmother spoke volumes about our history and issued a subtle admonition for the path forward. She reminded us that we must be clear on both what we are fighting for, and how we will protect what we already have.
What are we fighting for? First and foremost, we are fighting for our children: for their futures to be robust, their equality to be affirmed and their lives to be protected. That is why the civil rights community lifts up education over incarceration, and economic liberation over discrimination.
What do we need to protect? If each of us has anything - even those of us who don't have a house, or a car, or a family to feed, or any earthly possessions at all - as soon as we turn 18, we have the right to vote. This is the right that has been won and expanded through the American Revolution, Civil War, the women's suffrage movement and the civil rights movement - because we have always understood that we are ultimately rendered defenseless when our access to the ballot box is diminished. So while voting rights may not be the most important issue to any one of us, it needs to be the most important fight for all of us.
My grandma's words have guided me over the years, and they will continue to guide me throughout my career. We should heed her important reminder that history can, and often does, move in two directions at once.
Benjamin Todd Jealous is the president and chief executive officer of the national NAACP.