Memories Forever
9/18/2013, 12:17 p.m.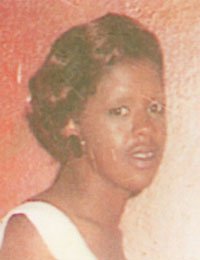 Betty Jo Green has gone home to be with the Lord; but her memories with us will always stay.
She was born Jan. 25, 1957 and died this month at the age of 56.
Funeral service will be held Friday, Sept. 20 at 11 a.m. at Love Temple, 8660 N. Willamette Blvd.
She was preceded in death by her father, Woodrow Green Sr.; mother, Carrie Mae Green; and brother, Charles Green.
She leaves to mourn her only son, Anthony LaShawn Green Sr.; two brothers, Paul Green Sr. and Woodrow Green Jr.; five sisters, Marion Johnson, Ernestine Fuller, Julie Green, Joyce Green and Carrie Mae Green; five grandchildren and host of nieces, nephews, cousins, family and friends.