Mystery Test Scores
| 9/18/2013, 12:34 p.m.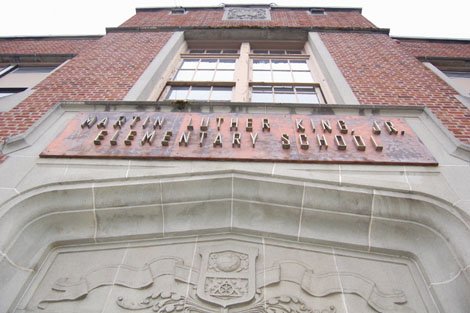 King Elementary is under the microscope. The former principal, Kim Patterson, who was responsible for many reforms at the K-8 school, stepped down just before the school year to begin a new job at the Oregon Department of Education; Eryn Berg has been chosen to succeed Patterson who held the post since 2010.
This all comes amid extensive investigations into plummeting test scores at the northeast Portland school.
A year ago, school leaders were celebrating the scores of seventh and eighth grade students who were able to pass math exams with a 50 percentage improvement from the previous year. Students in other grades also saw huge increases in reading and math. But a new year of testing made public last week shows scores plunging significantly.
Now the district is again looking at the disparities in scores to try to explain what happened.
A former language arts teacher at King says she witnessed educators offering coaching to students during state testing when the higher scores were recorded. She filed a complaint with the district last year, however officials ruled there was no evidence to support her claim.
While school administrators they don't believe district employees cheated to help students, they still want to examine causes behind the changes.
Jackey Fox is the mother to a Kindergartner at King School. She believes the whole system of testing is the biggest concern.
King is in its third and final year of a $2million federal School Improvement Grant, which is meant to turn around some of the nation's lowest-performing schools.