Seniors on the Move
New program focuses on healthy habits
| 9/18/2013, 12:31 p.m.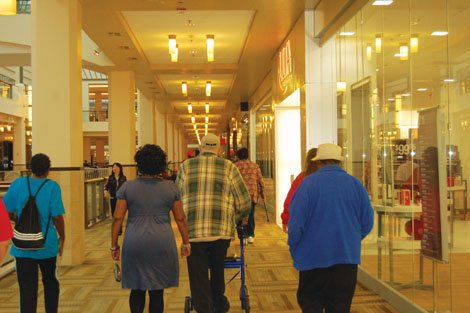 Seniors breeze through Lloyd Center Mall as part of a new program keep get elder citizens moving called Walk With Ease.
The program, which was launched by Meals on Wheels People, aims to take a group of 10 to 12 walkers aged 60+ on two to three trips weekly. It debuted in seven other locations in April. The goal is to have participants work up to 45 minute walks. Each participant is provided with a journal to log their walking habits.
The Urban League of Portland's Multicultural Senior Center Director Arleta Christian led the kickoff walk this month. Her primary concern is making sure the positive energy of the first walk only continues, "I'm excited about the program, and I just want us to be consistent, you know, support one another."

Rachel Gatkins says she's in the program to "better her health." At 84-years-old she says severe problems with her nerves and back and the recent passing of her husband had strayed her away from a once-active lifestyle.
"I wanna walk so I can try to keep my body in shape a little bit, keep my brains going. If you don't use it you'll lose it and I see that as I get older," she says.
67-year-old Mable Atkins was on the walk too. She says she'd been in similar programs in the past, but many of them seemingly dismantled. She saw a posting about the program at the senior center on Martin Luther King Boulevard and was compelled to sign-up.
"My momma died last year in May, and was 101 [years old], and that was the number one advice she gave me, is if you keep moving, you'll stay."
Atkins playfully added another reason for staying active, "I don't want to give the pharmacy all my retirement."