Black Portlanders
Woman's shoots documents life in the city
| 9/25/2013, 12:38 p.m.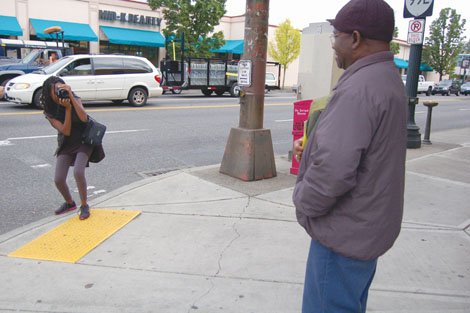 Memphis native Inistar Abioti was not surprised Portland falls much behind her hometown when it comes to cultural diversity. After all Memphis is the birthplace of Blues music and is 62 percent black, while and the City of Roses doesn't even edge up on 7 percent.
When the 27-year-old multi-disciplinary artist made the decision to come here, Abioti says she barely had any real context to Portland's racial history. Initially it was the food, the healing arts, lush greenery, and independent businesses that intrigued her. However in time, she became aware of other things surrounding her.
Abioti started an Internet blog to document black life in Portland. Called The Black Portlanders, the project keeps a camera tied to her hip, and when intrigued by a person, male, female, tall, short, dread-head, or bald, she approaches. She tells the person (or people), of her blog, she asks if she can shoot their picture; most oblige.
"What led me into it basically is what led me into everything else -- art and exploration and the love of black culture, a love of African Diaspora cultures, and photography," she says. "The imagery, poetry in life, poetry of the visual, finding powerful stories about life. Those are all things [I've explored], maybe since I was a teenager.
"I love our image, we're beautiful, we're so diverse, you could put us all together and we'll all look different, we'll all have different experiences, and come from different places. I just love people. Whether they're black or white, there's just so much beauty in people. I love that," she says.
Her work documenting the lives of African descendants has stretched beyond Portland. Not long ago Abioti travelled to Senegal, as part of a project quite similar to The Black Portlanders, but on a much larger scale. Simultaneously to the Portland-based project she is documenting the global African Diaspora through the scope of her lens.
"We come from everywhere, we're everywhere," she says.
The recent disappearance of a notebook filled with contact information has left Abioti in a scramble to complete her microscopic devastation, which parallels quite eerily to that of a Diaspora.
"I felt so terrible. That was a blow because that was a lot of work," she says. "To lose this notebook with all these people's numbers and contacts. Some I've already published so I have their name, some I haven't published so now I just have these people's images and don't know who they are."
Abioti says she will keep improvising.
"Right now I'm just gonna have to ask the community, `who is this person,' It's not scripted," she says.
You can visit Abioti's blog at theblackportlanders.com or find out more about her at intisarabioti.com.