A Sense of Belonging
Moorish Science embraces African roots
| 9/25/2013, 12:40 p.m.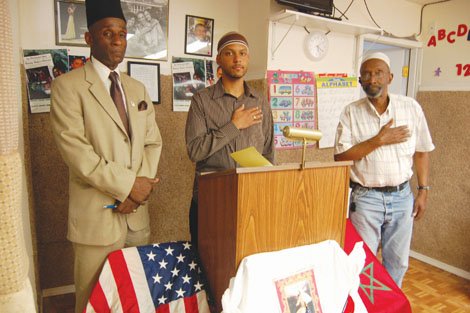 It's not a religion, it's not a cult, and it's not a secret society; it is a spiritual science, it is Moorish Science. The Moorish Science Temple of America has slowly been building a foundation in Portland whether it be through prison ministries, a weekly Portland Community Media television program or gang outreach.
Currently the temple is in its centennial year; it was founded in 1913 by a 27-year-old man named Noble Drew Ali. Born out of ancient knowledge of Africa, the temple works to instill five basic principles to black men and women in America. Those principles are love, truth, peace, freedom, and justice.
The Portland sect, referred to as Temple #2, holds meetings out of a small building located at 4725 N Williams. Since establishing themselves as a 501 (c)(3) non-profit, they are in talks with the Matt Dishman Community Center in north Portland to relocate. Membership stands at 15 heads, five of whom have joined since the beginning of the year.
Brother Stanfill El, who approximates he's practiced the science for about two years, has this to say about Ali, "He's a redeemer."
"He came to redeem a people that lost their identity. They took the physical shackles of slavery and put it on our mind," El said.
While the group's principles are not seen as radical, some of their practices can draw controversy.
The Moroccan flag flies in tandem with the American flag every time a meeting is called to order. Why the Moroccan flag? The temple believes that most blacks brought to America during the slave trade were of Moroccan descent, whose inhabitants were once commonly referred to as 'Moors'.
The belief gains a foothold from an undeniable part of American history. On Dec. 20, 1777 Morocco became the first country to officially recognize the 13 colonies as an independent nation.
Moors traditionally have worked fervently to disprove common misperceptions about American society and the world at large.
In Portland they are drawing on the familiarity of African Americans with Christian beliefs to discuss the 18 missing years of Jesus' life. The New Testament of the Holy Bible tells the story of Jesus from his birth until he is 12 and then jumps to his final years as an adult at 31 before his passing at 33.
The temple does not just accept those missing years as a "mystery" or unaccounted for. They aim to explain the missing years and discuss what one of the world's most enigmatic and beloved figures stood for.
Deciphering the true meaning of words and understanding math are essential ways Moors teach self-improvement and self-determination. With a mastery of these subjects Moors hold it to be true that the men and women of African descent across the globe will undoubtedly perform to their true capacity as has been demonstrated in the past.
Along with other Portland members, Sheik Lynch Bey plans to travel to the nation's capital to celebrate the 100th year of the Moorish Science Temple of America on Oct. 20, where he will act as part of a security detail. He deduces Moorish Science's teachings to building a collective identity.
"Everybody's got a nationality except us," he said. "If nationality wasn't important they would have never taken it from us."
If interested in more information on the temple contact Sheik Lynch Bey at 202-367-6983.