Lorraine Hansberry's Wisdom
Oregon Shakespeare Festival revives play by African American playwright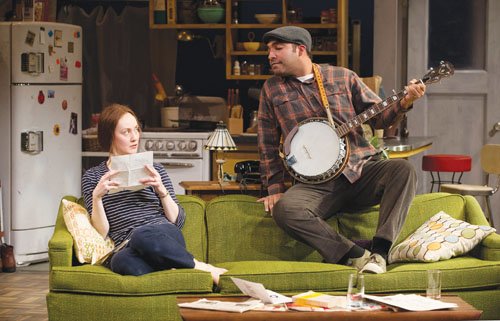 In 1959, at the age of 29, Lorraine Hansberry achieved critical success with her play, "A Raisin in the Sun." The play, which depicted the experience (reflecting Hansberry's own) of a black family buying a home in a white Chicago neighborhood, had a successful Broadway run and is now considered a classic of American theater.

Five years later, during the final battle with pancreatic cancer which cut her life short at age 34, Hansberry's second play was produced for what turned out to be a much more limited and less successful Broadway run. The reviews at the time were mixed, and suggest that critics and audiences didn't really know what to make of the play. "The Sign in Sidney Brustein's Window" has since rarely been produced.
This spring, the Oregon Shakespeare Festival has mounted a production of "Sidney Brustein," 50 years after its Broadway debut, which makes a terrific case for Hansberry's wonderfully ambitious work. The play is so far ahead of its time that I wonder if we are ready even now for the prophetic insight of Ms. Hansberry, so famously young, gifted, and black. But I'm grateful that the Oregon Shakespeare Festival has gone to the trouble to offer us this opportunity.
Mounting this revival was no mean feat. There are several versions of the script in existence, including some edits and rewrites completed after Hansberry's death by her ex-husband and collaborator, Robert Nemiroff, Director Juliette Carillo and her creative team carefully worked with the unwieldy collected text to capture Hansberry's intention and to hone the production to a story that will keep audiences engaged even as they are challenged. Those efforts, including the work of a very fine and sensitive cast, have resulted in a production that hums with authenticity.

It is an ambitious effort. Rather than remaining in the box created by her success with "A Raisin in the Sun," Hansberry dared to write a play that reaches beyond black experience to depict a more expansive range of perspectives, in service of a complex mix of ideas.

Her protagonists are a Jewish intellectual and his wife, Iris, living in Greenwich Village in the early 1960s.
Sidney is someone you might recognize -- a liberal intellectual who has acquired the tools for higher thought, but who frequently neglects to self-apply his insights. His marriage to Iris -- an aspiring actress who can't summon the courage to audition -- is full of wit and affection, but also with the merciless barbs they lob at each other. Iris, is a product of her time -- intelligent and perceptive, but imprisoned within a limited set of options that affect her perception of herself.
He vastly underestimates her -- and she is losing patience with his penchant for pursuing ill-advised projects that exceed his resources and talent. Both seem immobilized, though the quality of Sidney's superior tone suggests that he would apply that description only to Iris. Neither can seem to light on a life purpose to commit to, and their commitment to their marriage is hampered by their illusions about each other.