Fighting Displacement
Skeptics say housing investment will not cure gentrification
| 4/9/2014, 2:37 p.m.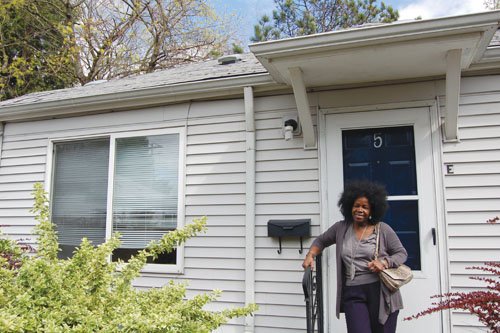 A plan to increase public monies for the construction of more affordable housing units in the gentrified neighborhoods of north and northeast Portland is drawing a mixed review.
"It doesn't undo what was promised when the Interstate Corridor Urban Renewal Area was established [in the year 2,000]," says Maxine Fitzpatrick, director of the Portland Community Reinvestment Initiative (PCRI) and co-chair of the Portland African American Leadership Forum (PAALF).
Fitzpatrick, says Mayor Charlie Hales' recent proposal of adding $20 million to affordable housing stock to some of the impacted neighborhoods would help black families and other disadvantaged populations both stay and return to the area, but says the eventual construction of new housing units would not by any means act as a cure to gentrification.
Hales' proposal came last month after he converged with "50 leaders of the African-American community and neighborhood and business representatives," to try to rescue a planned development of a Trader Joe's grocery on northeast Martin Luther King Jr. Boulevard and Alberta Street that would get support from the Portland Development Commission.
Hales called for the additional housing support after PAALF made local and national headlines for their protests of the Trader Joe's proposal in which they suggested the site should include construction of affordable housing in some capacity.
The specialty grocer was almost certainly going to build on the lot when the PDC deal was announced in November, but by January a Trader Joe's spokesperson announced they were pulling out of the deal citing the community's protest.
The city had already assured $34.4 million to subsidize housing construction through 2021 that is reserved for low and moderate income people and families.
According to the report Portland's African American Community in Multnomah County: An Unsettling Profile, by the Coalition of Communities of Color and School of Social Work at Portland State University, black people make up 18 percent of the local homeless population, compared to just 7 percent of the general population. African Americans are also overrepresented in emergency shelters and transitional housing.
Other key points from the 2013 report: Black residents of Portland have the lowest homeownership rate of all groups, including other minority groups; the black community has experienced the greatest number of housing foreclosures; black residents pay the highest percent of household income on housing; the experience of African-Americans in Portland has been marked by several cycles of displacement; and the median net worth for black households in 2011 was $6,446, which was lower than it was in 1984 at $7,150.
PCRI and Sabin Community Development Corporation are two nonprofit organizations that address housing in a culturally specific method for black people in the city. Sabin holds 120 units of affordable housing
The heightened publicity around gentrification also drew attention to Oregon's 1999 ban on mandatory inclusionary zoning, which prevents local jurisdictions from ensuring construction of affordable housing in "neighborhoods of opportunity".
Attorney Jenny Logan and the Housing Land Advocate board members worked to overturn the ban in 2013; the efforts resulted in a bill by Sen. Chip Shields and Rep. Reardon that year to repeal it.