Fighting Displacement
Skeptics say housing investment will not cure gentrification
| 4/9/2014, 2:37 p.m.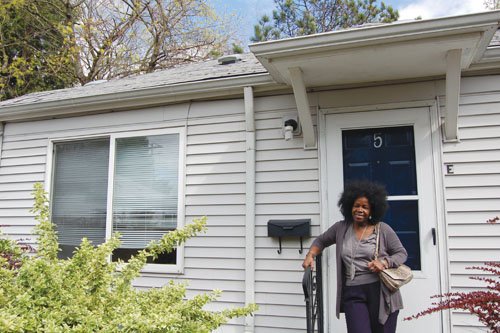 Ultimately the legislation didn't make it to the floor for a vote.
However, state and local governments are still free to allocate dollars to areas that are in the midst of, or soon to be under heavy development.
The Interstate Corridor Urban Renewal Area encompasses 3,390 acres of north and northeast Portland, spanning from parts of the St. John's neighborhood to the west, to the Columbia River on the north and connecting several neighborhoods along both sides of Northeast Martin Luther King Boulevard, North Lombard and North Interstate Avenue.
Under city policy, 30 percent of the of the property tax monies generated within the district are to be allocated to housing projects geared to people who earn less than 60 percent of the region's median income, which is $69,000 for a family of four.
According to the most recent census numbers, over 10,000 people moved out of northeast Portland between the time the Interstate Urban Renewal District was established in 2000 and 2010, most of whom identified as African American.
Chris Guinn Sr., the co-owner of Dwell Realty, a company that exists right at the edge of Vanport Square and the proposed Trader's Joes, says the effectiveness of the mayor's proposal depends greatly on how "affordable housing" will ultimately defined, and where the city where ultimately develop the bulk of these houses.
Ultimately, Guinn, a local African American resident, says he'd like to see more median-income housing in the area.
"I don't really think we need low income housing per se-- I think we need middle income housing in the area," Guinn says.
In a statement to the Portland Observer, Portland Housing Bureau director Traci Manning who works directly with the PDC acknowledged gentrification as a "result of government actions [that have] occurred for decades in inner northeast Portland and the Interstate Corridor."
"Most of that can't be changed." she says.
Despite this sentiment, Manning remains hopeful that proposals like the mayor's will allow for the kind of economic activity that will allow current families to stay in the area, and allow others to return.
Of note, community leaders are encouraging neighborhood residents to attend a meeting to discuss affordable housing issues at the Northeast Coalition of Neighborhoods, located at 4815 N.E. Seventh Ave., on Thursday, April 10 at 6:30 p.m.
--Donovan M. Smith