Remembering Charles Jordan
First black city commissioner inspired leadership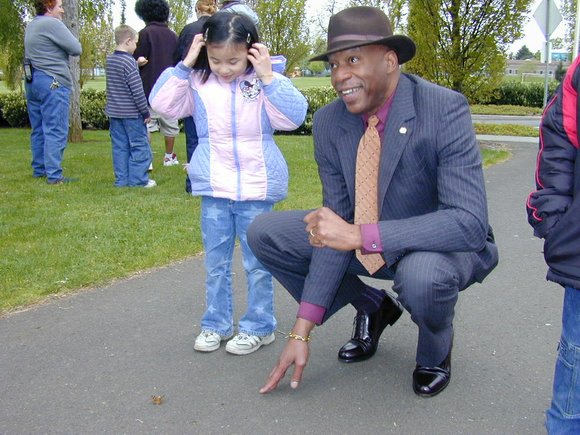 Portland Mayor Charlie Hales ordered all city flags to fly at half-mast through Saturday, April 12 for former City Commissioner Charles Jordan who died on Friday.
People from all over the city are remembering Jordan for his leadership, especially in his role as a former director of Portland Parks and Recreation.
City Commissioner Nick Fish called him a presence that will be remembered, especially for his advocacy of making Portland parks serve families and children.
Retired parks director Zari Santer remembered him in a similar vein, saying that Jordan looked at parks as being something to help people have a sense of pride in, not only their neighborhoods, but themselves as well.
Just a few hallmarks of Jordan's tenure include popular PP&R programs such as the free Movies in the Park, plus innumerable youth initiatives. Jordan also gained public support for critical parks bond and levy measures.
He oversaw 44 new Portland parks and natural areas during his tenure.
"Charles Jordan is established in history as one of the heroes of Portland," says Portland Parks Commissioner Amanda Fritz. "His many contributions to our community live on, and his memory will inspire others to reach beyond ordinary goals to achieve greatness. Charles Jordan epitomized the best in community-building leadership in Portland."
In June 2012, the Portland City Council voted unanimously to rename the University Park Community Center in north Portland in honor of Charles Jordan.
After spending his early life in rural Texas, Jordan served as an officer in the U.S. Army. He received his Bachelor of Science degree from Gonzaga University in education, sociology and philosophy. In 2001, he was awarded an honorary Doctorate of Law degree by the University of Vermont.
Jordan spent 10 years as Portland's first African-American City Commissioner, beginning in 1974. He served 14 years as Director of Portland Parks & Recreation and retired in 2003.
Jordan was the force behind Portland landmarks such as Pioneer Courthouse Square, the Interstate Firehouse Cultural Center, Delta Park, Southwest Community Center, renovations to Tom McCall Waterfront Park, the Matt Dishman Community Center, and many more public projects and successes.
As City Commissioner, he was noted for his innovative and unconventional approaches to problem solving. Jordan developed the Community Juvenile Officer Program that put Portland Police officers in local schools to engage youth through positive interaction and activities. As Fire Commissioner, he developed an outreach training program to recruit people of color to the Fire Bureau.
On the national stage, Jordan broadened the agenda of the environmental movement and land conservation to make it more inclusive. He is known for his groundbreaking approach to putting people - particularly people of color - at the heart of the American Conservation Movement.
"His great saying was 'Parks are more than just fun and games,'" says Michelle Harper, who worked with Jordan for years in several capacities. "He is a spiritual person with a strong connection to his church, and he saw us all as being connected. Portland's parks were where we could come together to build community and family."
Jordan's memorial service will be private, for family only.