Tax Credit for Mixed Income Apartments
Complex to offer below market, affordable rates
4/9/2014, 2:07 p.m.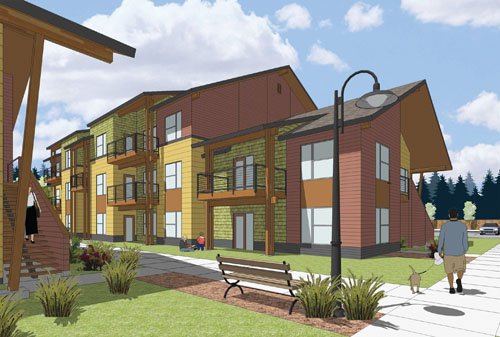 Construction has begun for a new mixed-income, multi-famly housing complex in Vancouver thanks to US Bank and the Vancouver Housing Authority which recently closed on $6.4 million of federal Low-Income Housing Tax Credit for the nearly $30 million 1st Street Apartments project.
"We're proud to help bring additional community centered living options to Vancouver's rapidly growing east side," said Malia H. Wasson, U.S. Bank president for Oregon and Southwest Washington. "We look forward to partnering with the Vancouver Housing Authority on future opportunities that make a positive difference in the lives of Clark County residents."
The new mixed-income, multi-family housing complex—at the intersection of Southeast First Street and 164th Avenue—will consist of 152 studio, one-, two-, and three-bedroom rental units and offer a children's playground, a sport court, covered bike racks, a community garden with gazebo, rain gardens, and a community clubhouse. The development is scheduled to open May 1, 2015.
The tax credits offset the cost of the construction and will allow the housing units to be rented at below-market, affordable rates. The City of Vancouver and Clark County provided funds for the Vancouver Housing Authority to purchase the site three years ago. VHA is also contributing funds to the development.
The Vancouver Housing Authority currently serves more than 12,000 people through its workforce housing, special needs housing, and subsidized housing programs for low-income families, elderly and disabled persons.