Kidz On Da Track
Coaches look to push appeal of BMX further
| 4/16/2014, 12:05 p.m.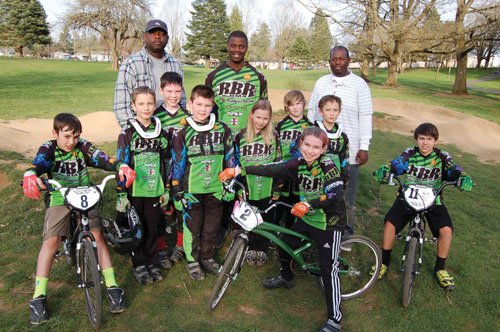 California dirt ramps turned out to be the launch pad to a bit of a dream for Harold Ridge. He heads a BMX racing team in the Portland area.
As a kid in San Francisco, Ridge and his older brother Kevin would often find themselves fashioning their own dirt ramps and racing around their Hunters Point neighborhood.
"BMX was really big in the early 80s, it got bigger. But that's what we did to have fun," he says.
Now an adult, and a Portlander for well over a decade, Ridge has pedaled BMX racing into the hearts of many in the city. His 32-person squad has racers as young as 3-years-old all the way up to 48.
Ridge says it's almost unbelievable the growth this team has seen. Originally the unit was almost completely fraternal, the players included his son and daughter, a nephew, two nieces, and two of his son's friends.
Since then his daughters and nieces have left, but the team continues to prosper. In a recent state tournament, it placed 3rd overall.
As the team continues to elevate, Ridge is reaching out to other members of the community, especially people of color, and explaining how the sport is one that is financially accessible.
It doesn't take top-of-the line equipment to get involved; in fact the first race is free.
"These bikes have a lot of different styles and sizes. Just to get started you don't have to spend a lot of money on a bike to get on the track," he says.
Once a bike's been acquired, Ridge says you just head over to USABMX.com, to find a local track near you, and the first race is pro bono.
In an effort to get more "inner-city" kids and people of color involved in the sport, Ridge is looking to start an after school offshoot of the team called "Kidz on Da Track" The program will be offered this fall at schools in north, northeast and southeast Portland.
His nephew, who is still with the team, says as time has passed, his passion for the sport has grown, and he's literally picked up speed along the way.
"It was just kinda a fun thing to do. But as you progressively do it, it starts getting more serious and serious, then you start going faster and faster, and it gets funner and funner!" the now 16-year-old rider says.
"You don't always have to go pro," he says, "You can just do it for fun on the weekends, that's the best part. You can still get a job, be productive, and do this on the weekends."
Big brother and co-coach Kevin Ridge says the opportunity in the sport broadens the horizons and social circles of both parents and kids.
"Some kids gotta play basketball or football. This is an alternative. You can do other sports, too, cause it keeps your stamina up," he says. "I think this is a good sport for a lot of inner city kids to get out and see that there's other things to do besides what the schools offer."
Ultimately the brothers say, they are sticking to their original blueprint of creating a winning spirit with a familial attitude for their BMX team.
For information about joining up with the Ridge brothers' team, call Harold at 503-449-5208. For families interested in getting involved with their inner-city offshoot Kidz on Da Track or a business looking to sponsor the program, email kidzondatrack@yahoo.com.
--Donovan M. Smith