Lincoln's Legacy at History Museum
Rare documents and artifacts pay tribute to 16th president
4/22/2014, 3:32 p.m.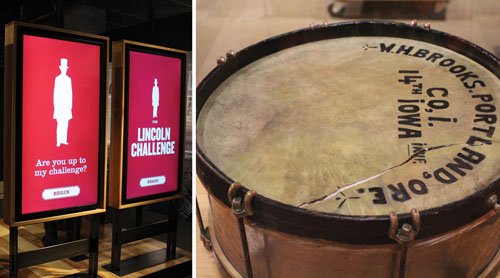 Following on the heels of its successful "Windows on America" exhibit, which featured some of the nation's most treasured historical artifacts and manuscripts, the Oregon History Museum has opened an original exhibit highlighting the presidency of Abraham Lincoln, entitled, "2 Years, 1 Month: Lincoln's Legacy."
The exhibition focuses on the time period between Jan. 1, 1863, when Lincoln signed the Emancipation Proclamation, and Jan. 31, 1865, when Congress passed the 13th Amendment to the Constitution banning slavery.
"Seven score and nine years have passed since Abraham Lincoln's death," said OHS Executive Director Kerry Tymchuk, "but his remarkable life and legacy continue to fascinate Americans. This incredible exhibit offers a unique opportunity to better understand one of America's greatest leaders and what was certainly the most challenging time in our nation's history."
Visitors to the exhibit have the opportunity to see a first printing of the Emancipation Proclamation, signed by Abraham Lincoln; a House of Representatives official copy of the 13th Amendment, personally signed by the then members of Congress and United States Senators; military uniform shoulder straps worn by General William T. Sherman, the actual pen that President Lincoln used in 1862 to sign the Act of Emancipation for the Territories , and pieces of fabric from both the coat that Lincoln was wearing and the seat in which he was sitting the night he was assassinated at Ford's Theater.
In addition, the exhibit includes numerous Civil War-era costumes that were worn by actors in director Steven Spielberg's Academy Award winning movie, Lincoln.
The exhibit, which runs through July 4, also features a touch-screen video game, "Lincoln's Challenge," which will allow visitors to test their knowledge of America's 16th President and the Civil War.
The Oregon History Museum is located at 1200 S.W. Park Ave. in downtown Portland. Admission is always free for Multnomah County residents. Visitor information and a list of current exhibits can be found at ohs.org.