Say Goodbye to Trader Joe's
Specialty grocer issues final "no" to MLK and Alberta
4/22/2014, 4:22 p.m.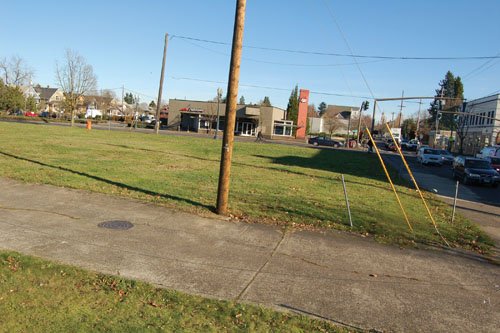 It's official, Trader Joes is out of a development deal that would have brought the specialty grocer to a lot on Martin Luther King Boulevard and Alberta Street.
Portland Mayor Charlie Hales made the announcement in a news release Tuesday. He said he got the final rejection from Trader Joe's in a phone call on Friday.
The lot, which has been vacant for around a decade, was picked to be developed by Majestic Realty of Los Angeles for bringing in a major retail anchor that would serve as an adjacent commerce hub to Vanport Square.
The proposed deal was brokered by the Portland Development Commission and announced last November, but pushback came primarily from the Portland African American Leadership Forum, a group of local activists who called for affordable housing to be included in the 2-acre site.
Citing negative community concerns, Trader Joe's announced in February that they would not continue with the plans. Hales tried to revive the deal.
He says Majestic Realty Co. will stay on for future plans to develop the space in some capacity saying, "Majestic knows the site, they know the players, and they know the issues of concern. If we want to fast-track a development that meets the needs of the neighbors, the business community, and the city, then Majestic should take the lead."