Vancouver Avenue's Home Coming
Historic church to celebrate 70 years
4/22/2014, 3:33 p.m.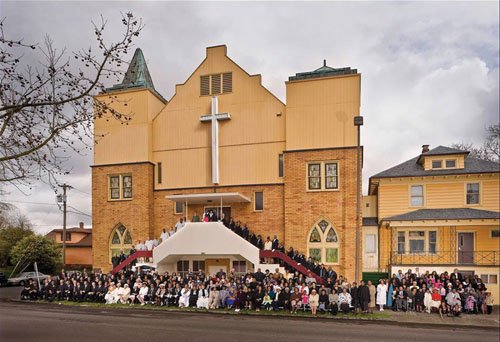 On Sunday, April 27, at 2 p.m., the Vancouver Avenue First Baptist Church, 3138 N. Vancouver Ave., will commemorate its 70th anniversary with a diamond home-coming celebration that will capture the authentic essence of the message, the music and the memories of this historic church.
Vancouver Avenue is known for its African American and multi-cultural experiences through family and community driven programs and annual events that enhance the spiritual, social, civic and academic well-being of the Portland community.
According to the organizers of the anniversary event, you should prepare yourself for an amazing episode of empowerment, reflection and total transformation as the celebration promises to be one of the shimmering events of the year.
The event is scheduled to kickoff with a special city proclamation from Portland Mayor Charlie Hales, plus inspirational keynote speaker, Pastor Johnasen L. Pack of Grand Prairie, Texas; Pastor George Merriweather of Northeast Community Fellowship Church; and an amazing up-lifting 90-plus voice Gospel choir backed by a seven piece Gospel band that features the musical talents of Patrick Lamb, Janice Scroggins, Bobby Garnett, Megale Roberts, Pamela Mitchell and Ken Berry.
An instrumental ensemble that is directed by fame jazz and funk musicians, Kirk Green and Gaylord Warren, and a host of other gospel singers and musicians will also join the rostrum.
Recollections of the church's past will be shared by a host of long-ago members who have returned for a moment in time. A post reception will showcase "70 diamond delights" of homemade cultural desserts.
The event is open to the public. Raymond Burell III and Felicia Pool are co-chairs of the celebration and J.W. Matt Hennessee is senior pastor. For more information, contact Vancouver Avenue First Baptist Church at 503-282-9496 or visit vafbcpdx.com or the church's Facebook site.