Going to Work
More jobs are expected to follow best job growth in nearly a decade
4/23/2014, 11:46 a.m.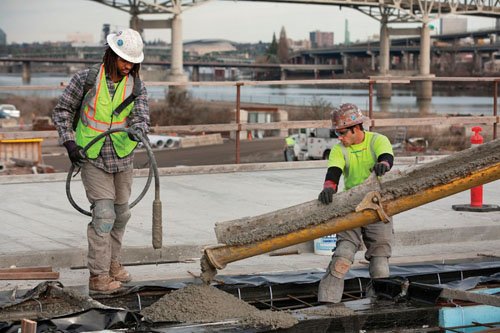 The largest monthly gain in jobs in Oregon a little under a decade has put a slight dent in the state's high unemployment rate, but new long term projections expect even more of a positive jolt to the economy with a 15 percent increase in employment over 10 years.
Seasonally adjusted, Oregon saw 7,500 new jobs in March, the largest since November 2005 when 9,300 jobs were gained.
The overall unemployment rate, released last week by the Oregon Employment Department, basically was unchanged from the month before at 6.8 percent, but the figure continues a trend of job growth. At this time last year, unemployment for the state stood at 8 percent.
With businesses across the state reporting 10,000 more job vacancies early this year than they did the prior year, the growth brings to light another huge question of the unemployment puzzle: Where are the jobs?
Food preparation, service workers, and production workers topped the list of occupations with vacancies, with more than 4,000 apiece. In comparison, the employment from the construction industry saw the most gains in employment.
TriMet reported a new employment milestone last week by creating 10,298 jobs for the Portland-Milwaukie Light Rail Transit Project.
Oregon will add 258,000 jobs by 2022, according to the new projections. The projection stems from anticipated private-sector gains of 232,000 jobs (17 percent) and the addition of 26,000 government jobs (9 percent). This long term 15 percent growth rate exceeds the 6 percent growth seen over the past decade.
Beyond gains from economic growth, an additional 392,000 job openings will be created by 2022 as workers change occupations or leave for other reasons, such as retirement, officials said.
The 2012 to 2022 employment projections reflect several ongoing trends: continuing recovery from the Great Recession, particularly for the construction industry; a growing health care sector, due in part to an aging population; continuing population growth; and the need for replacement workers due to baby boomer retirements.
The state's professional and business services sector - which consists of computer systems design services, temporary employment agencies, business support services, and other firms - is projected to add the most jobs (47,000), followed by the health care industry (45,000).
Oregon's construction industry, continuing its recovery from massive recession job losses, is projected to grow at the fastest rate of any industry (29 percent or 20,000 jobs).
Even with its relatively fast growth rate, the construction industry's employment is not expected to return to the level seen prior to the Great Recession. Other industries expected to fall short of pre-recession employment levels by 2022 include manufacturing, financial activities, and information.
Information - which includes newspaper, directory, and book publishers, as well as software publishing and other firms – is forecast to be the state's slowest-growing industry (7 percent), followed by state government (9 percent).
The federal government (-5 percent) is the only major industry sector expected to shed jobs over the decade
In an effort to raise awareness and attract competent applicants many employers are reporting they have been raising the starting wages.
The average wage offered for a job vacancy is 74 cents above last year's median at $16.05, employment officials said.
In the latest reporting, the Portland tri-county area had 19,000 job vacancies this year, more than half of the statewide total.
This year also came with an increase in minimum wage, one that saw about 150,000 jobs paying $9.10 hourly, meaning on average, minimum wage workers can expect to take home $18,928 for 2014.