Light Rail Project Creates 10,000 Jobs
Record set for business with minority and other disadvantaged firms
4/23/2014, 11:57 a.m.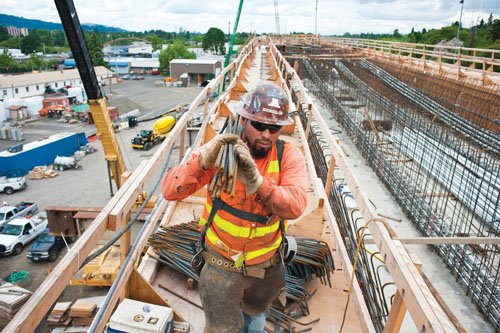 The Portland-Milwaukie Light Rail Transit Project has reached a new jobs milestone by creating 10,298 jobs, and providing a record $153 million in contracts to Disadvantaged Business Enterprise (DBE) firms.
With the project now 76 percent complete and since the beginning of preliminary engineering in March 2009, the project has contracted with 507 firms, including 127 DBE firms; created 5,108 direct jobs (3,847 on-site construction jobs and 1,261 professional and technical jobs); and created 5,190 indirect and induced jobs, TriMet officials reported.
Indirect jobs include positions at suppliers of materials for the project, such as steel, concrete, wood, and more. Induced jobs are jobs created by the spending of project salaries for items such as groceries, gas, entertainment, etc.
"This construction project is creating jobs and helping to support the regional economy," said Don Blocher, TriMet capital projects executive director. "We're expanding and improving our transit system, at the same time we're contracting with an unprecedented number of DBE firms and purchasing materials from local suppliers."
The 7.3-mile project is the region's sixth MAX construction project to be built and extends from the terminus of the MAX Green and Yellow lines at Portland State University in downtown Portland to South Waterfront, southeast Portland, Milwaukie and North Clackamas County.
The line, expected to open in September next year, will have 10 stations and the first of its kind multi-modal bridge that will carry light rail, buses, bikes, pedestrians and a future Portland Streetcar extension, but no private vehicles.