Texting and Driving Crackdown
Campaign raises awareness to decrease road hazards
| 4/23/2014, 11:55 a.m.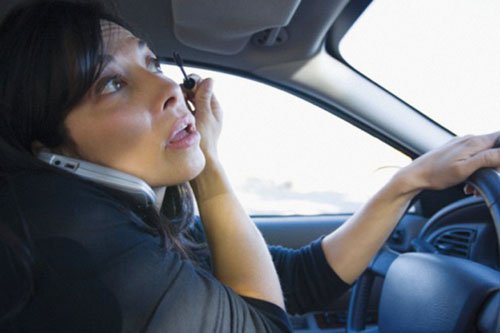 Texting and driving is getting more eyes with a new campaign to deter people behind the wheel from become distracted while driving.
The U.S. Department of Transportation released its first-ever national advertising campaign this month to increase the awareness of the dangers of driving while distracted from cell phones, text messages and other devices.
The tagline is simple: U Drive. U Text. U Pay.
The $8.5 million campaign has also led to some "high visibility enforcement" of distracted driving laws across the nation, including police agencies in Oregon and Washington.
Portland police spokesperson Pete Simpson said while the Rose City hasn't officially increased patrols for the effort, the police bureau's traffic division is always on the lookout for distracted drivers and run enforcement missions somewhat frequently and sometimes in cooperation with other Metro area law enforcement agencies.
The National Highway Traffic Safety Administration released a 30-second anti-texting-and-driving ad that has been popping up across TV screens and mobile devices this month. The spot shows a group of young people in a car while the driver checks a text message in motion; suddenly the car is plowed into by a large truck flipping the vehicle over multiple times. The driver dies.
Oregon Department of Transportation's Shelley Snow says that the distractions available to motorists, bicyclists, and even pedestrians continue to grow.
According to ODOT statistics, between 2008 and 2012, 65 people were killed in crashes where a "distracted driver" was a contributing factor.
"Bottom line is: driving is a complex task and too much is at risk to not pay attention to that task," says Snow, "We need to continually impress upon people – anyone using the transportation system – that it's too important to not pay attention when you are out and about. You can relax later, but first get to your destination safely by focusing on driving/biking/walking… and don't get distracted."
At the top of this year, an Oregon law went into effect doubling the maximum fine drivers can be finalized for using their mobile devices in transit to $500.
Oregon State Police stopped and handed out citations to over 5,100 "distracted drivers" last year.
Portland Community College student Lois Peatree knows firsthand the dangers of distracted driving. Her friend died last year in a crash where texting and driving was a factor. She asks that people restrict themselves from what can often be a burning temptation for people her age to reach for the phone at the wheel.
"People die every day from it," she says "It's scary. Your mom could die, your dad could die, and your best friend could die. You could die! That's a big word! You could just not be here."
Here what other local residents had to say about texting and driving by clicking here.
--Donovan M. Smith