25 Years a Name
Anniversary is a reminder of challenges that remain
| 4/25/2014, 11:07 a.m.
A revolutionary reverend, revered in both the country that spawned his dream for human equality and across the globe where the sobering truth of injustice still rings true for many, Martin Luther King Jr. holds a name of great weight even in his passing 46 years ago.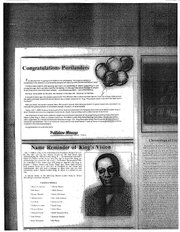 25 years past, over 2,000 citizens signed a petition, and various civic organizations successfully appealed to bring his name to the heart of Portland's black community. April 20, 1989 was the date.
In commemoration of this successful appeal to rename Union Avenue to Martin Luther King Boulevard, the King Neighborhood Association, World Arts Foundation, and the Northeast Coalition of Neighborhoods will hold a celebration at the Blazers Boys and Girls Club, fittingly located at 5250 N.E. Martin Luther King Jr. Blvd. on Saturday, April 26 from 3 p.m. to 4:30 p.m.
A highlight of commemoration will be the raising of a new United States flag in front of the club to replace a flag that has flown tattered for years.
The neighborhoods around the boulevard have experienced great change over the years, but painfully the displacement of African Americans from the area has dashed some of the optimism that came with the name change.
US Census data shows that tracks of housing that were once majority black have returned to majority white. The gentrification is a sore spot for a population that faced racism during the years around World War II when shipbuilding jobs brought a major influx of black workers, but whom also faced racist redlining in collaboration with real estate, banking, and insurance companies.
Economic revitalization projects in the North and Northeast corridor over the years, headed by the City and the Portland Development Commission, have been blamed for benefiting more affluent whites over blacks.
Economic elevation for poor people, especially for black Americans was a key component to Martin Luther King and the Civil Rights Movement.
King is quoted as saying, "Many white Americans of good will have never connected bigotry with economic exploitation. They have deplored prejudice but tolerated or ignored economic injustice."
The Portland Observer spoke to King Neighborhood Association Chair Alan Silver about the significance of the Martin Luther King Boulevard naming.
As new residents arrive, particularly business owners, Silver who is white, says there has been some disdain shown toward the boulevard.
"I think I have a sense, in some way, in which folks wanna sanitize the boulevard," he says. "Perhaps they don't think of it as we're erasing black history, and the black presence from MLK Boulevard, but the neighborhood association hears occasionally that [some businesses] struggle to make their business work if they use an MLK address. So perhaps the land has lower value to businesses along this boulevard."
Silver says that events like the celebration at the Boys and Girls Club can help people who may not understand the history of the neighborhood.
While acknowledging the complex racial realities of north and northeast Portland, Silver says it is also a must to acknowledge the necessities and desires of the people who reside there now.