Clearing the Space
Artist kicked out of studio after visit from authorities
| 4/30/2014, 11:36 a.m.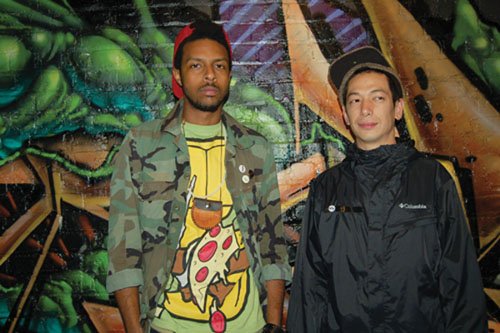 DeAngelo Raines has been operating out of rented studio space at the Portland Storage Company, 215 S.E. Morrison St., for a year, but after a recent surprise visit from Portland Police and Fire Marshal, his building's managers are telling him to pack his things and clear the space.
Raines, 28, is questioning not only why he was visited by authorities, but whether the storage company was renting to him under false pretense.
Raines faced an inspection for fire code violations earlier this month when he was hired to throw an "after hours" party that followed a music event at the downtown club Holocene. The job, according to Raines specifically required him to source a crowd for a music video for a DJ that was playing in town at Holocene that night.
"I approached my building 'cause they had let me know beforehand that if I wanted to have people up, I just needed to contact them, let them know. Hire security. And make sure we weren't giving out their [security code] and make sure they were letting people up and down,'' says Raines, who says he's operated similar events out of the same space in the past.
A 24 Hour Access Agreement from the company, however, states that the facility's primary function is short and longterm storage space. Smoking, alcohol and loud music on the premises are listed as grounds for eviction.
But according to Raines, he approached the building owners, who also live on the premises, and they gave him permission to serve alcohol and play music.

He says he sent invitations to a select group of friends via text message and Facebook, totaling no more than 75 persons. Shortly after the invites were dispersed, he discovered that Portland Fire Marshal Rob Cruser placed a call into nearby nightclub Black Book where his business partner Charity Stratos throws weekly events, asking for information about the after party.
As Raines set up the night's proceedings, he says he was approached by Cruser and another fire marshal in the company of several police officers.
He says the authorities confirmed that they'd been tipped off to the 2 a.m. event and asked to inspect the space. That's when problems were found with two of the building's fire escapes, a stairwell, and the fact the party was on the eighth floor and alcohol was going to be served.
But that was not the end of it. The fire marshal found that the studio, which has cost him some $10,000 in rents over the past year, is not even zoned for studio usage, but instead only for storage.
"Originally it was gonna be like a private boutique, like an invite-only boutique where would sell products. We would have occasional art shows, and then we would use it between times for photography, for videos, for painting, whatever," Raines says.
The storage company gave Raines a notice of termination of his rental agreement on April 22, giving him just over a week to move out after the fire marshal visit.
The Portland Observer spoke with the company's building manager Wendy Yeager in regards to the incident, but she declined to comment. However she did offer that Ellen Overhoiser who is listed on Raine's termination letter is not employed at Portland Storage any longer.
Raines says while he searching for a new space, he is still perturbed.
"I feel like it's false advertising, that I'm not actually able to do things in this building that I signed up to be able to do," he says.
A Portland Observer call to fire marshal Rob Cruser for comment was not successful.
--Donovan M. Smith