Global Impact
Portland photographer visits Nigeria to produce documentary
| 8/6/2014, 11:57 a.m.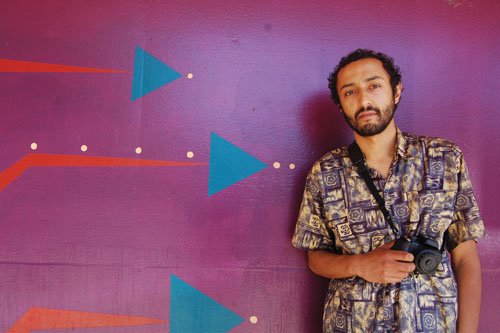 Filtered through his eyes and lens, photographer Alex Riedlinger wants to give people a piece of the vibrancy that exists in the people of southwest Nigeria.
Titled Just Like That, Riedlinger's photo-documentary gives in stills, day-to-day life of Nigerians he shadowed as they mused, danced, and performed religious rituals over a month. Portland-raised, and the son of African immigrants, Riedlinger has been shooting since childhood.
He recently launched a fundraising effort via Indiegogo that would bring 60 images from his trip, to 200 paperback books, and cover the printing of 15 large photos for a future exhibition.
Riedlinger, 27, also focuses much of his work documenting the cultural practices and religion of people of African descent. Important, he says, to adding alternative narratives around black people in America. In fact, records show that the region Alex visited is where many of the people shipped into slavery in America had their roots.
This work, he says, holds importance for communities even right here in Portland. "Honestly there's parts of north Portland that don't seem that different from life in Africa," Riedlinger says.
In Nigeria, the seasoned photographer spent considerable amount of time following young priests of an ancient spirituality called Yoruba Ifa. The men were followers of Orisa traditions that focus mostly on the worship of ancestors and deities.
In the midst of keeping tradition, he found a struggle. He observed that many of the youth in Africa are looking to the ''Western World,'' pop culture, hip-hop, and even President Obama for social cues. In this, it is becoming increasingly difficult for pre-colonial forms of tradition and worship to survive.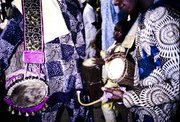 Where kids would once learn to play traditional drums from elders in the community, many would rather make a beat on the computer.
Nonetheless as globalization becomes an ever-present reality, the people of Africa remain vibrant and diverse he says. In a country like Nigeria where many ethnic groups exist, Riedlinger says it is "hard to tell where one community begins and where it ends."
One thing was clear, however, the people thrived on coming together and celebrating life. On the days when rituals were being performed, not only does he recall the energy being powerful, but in presence alone he was in fact participating too.
Quite vividly Riedlinger recalls one where a woman was being 'initiated' into the spirit of a deity, something the Orisa take seriously and study deeply. One man, already initiated into a weather deity, this one named Sango, became entranced the man swaying side to side, when the song for Sango was played at the ceremony. Riedlinger recalls feeling a single drop of rain drop on own face, turning and seeing the man with Sango beginning to go into trance and start dancing belligerently in the way of his spirit, and then the rain began pouring.
"The timing was right for the rain but it was coincidental that the orisa being played to controls the weather," he says. "Or not so coincidental depending on what you believe."
All in all, the art from the Nigerians he encountered was largely engrained into the culture in the way "a tailor sees himself as a tailor" he says, as opposed to a musician who sees himself as an artist.
As he explored life where he was, most of his photos were snapped as he was in the streets, capturing people in motion. In these images he categorizes the responses from people realizing they're being photographed to either defiant of stoic.
His favorite images are where the subjects are looking back at him. "It gives them more agency," he says. "[In that] I don't feel like I'm taking, because they're giving so much."
To support Riedlinger's campaign for Just Like That, visit www.indiegogo.com/projects/just-like-that-photo-book. More of his work can be found on his website alexriedlinger.com.
--Donovan M. Smith