Mississippi Freedom Summer Pilgrimage
An atrocity we must never forget
By Julia Cass and Marian Wright Edelman | 8/6/2014, 11:25 a.m.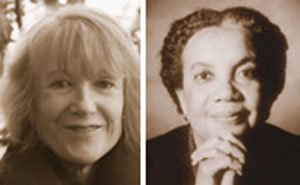 The site along a back road near Philadelphia, Miss. was the final stop on our step-by-step journey through the final tragic day of Freedom Summer volunteers James Chaney, Andrew Goodman, and Michael Schwerner. Our guide was Leroy Clemons, a longtime local leader and activist whose family was involved in the civil rights movement who is prominently featured in the excellent documentary "Neshoba: The Price of Freedom."
We both took this journey on June 25 with a group of about 400 young people, including young women participating in the Children's Defense Fund's summer leadership institute for young black women. Our buses were escorted by state troopers. For a split second, that almost seemed like an honor until we quickly wondered why we needed a police escort. The site is just down the road from the families of two of the Ku Klux Klan members involved in the murders, and as the buses stopped to see the murder site, riders on some of them said that pickup trucks rode by, back and forth, in a presumed effort at intimidation.
In a flash it brought back the absolute reign of terror faced by black people in Mississippi in those days. We're certain all of us gathered at the murder site—we went in small groups—couldn't even begin to imagine the terror the three young men felt that night as Clemons, from his study of histories, articles, court records, and his own interviews with still-living Klan members, told us what happened.
Chaney, Goodman, and Schwerner were stopped and arrested by Klan member and deputy sheriff Cecil Price as they drove away after speaking with members of a black church that had been torched a few days earlier. Price and the Klan knew that civil rights workers had been at the church several times to talk about having a Freedom School there—especially Michael Schwerner, who had been working in the area for some time, and they were looking for him.
Chaney, the driver, was charged with "speeding" while Goodman and Schwerner were booked for investigation, and all three were taken to the former jail—a squat non-descript building which was our second stop. After the Klan had time to gather, Chaney, Goodman, and Schwerner were released around 10 p.m. and told to drive back to Meridian, Miss. where they were staying.
As they were driving Deputy Price stopped them, the Klan members drove up, and they took the three young men to that back road spot. They selected this place, Clemons said, because Edgar Ray "Preacher" Killen, the ordained Baptist minister and local Ku Klux Klan leader who was eventually accused of directing the murders, lived on this road and wanted to see the place they were killed whenever he came and went.
About 20 Klansmen, drunk and full of "blood lust," chained James Chaney to a tree and beat him with chains. When they unchained him, he fell to the ground, and then they castrated him as Goodman and Schwerner watched. Then they shot him. Schwerner came up and cradled Chaney in his arms. A Klansman asked, "Are you that nigger lover?" and he said, "Sir, I understand your concern." And they shot him in the heart. Andrew Goodman ran and they shot him too.