Mississippi Freedom Summer Pilgrimage
An atrocity we must never forget
By Julia Cass and Marian Wright Edelman | 8/6/2014, 11:25 a.m.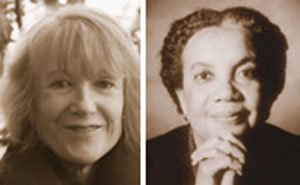 They then took the bodies to a dam a little further down the road (private property so we couldn't go there) where a tractor had already been deployed to dig the graves. Evidence suggests Andrew Goodman was buried alive. The bullet hadn't quite killed him because an autopsy showed red clay dirt in his lungs and also grasped in his fists from trying to dig his way out. The next day, Edgar Ray Killen took all the weapons and bullet casings to the Meridian Police Department, which destroyed them. The department was made up of Klan members.
We listened in horrified silence. Being there made the brutality vividly real and present.
The Freedom Summer veterans on our pilgrimage used the courage of the three young men and the other young men and women and local black citizens who participated in Freedom Summer to urge today's young people to pick up and carry on the movement in this era of racial profiling, stop and frisk, chokeholds, and mass incarceration. Although much progress has been made, great danger lurks for so many in our community and the prospects for poor children of color in Mississippi and across our nation are diminishing.
It is time for another transforming movement to honor the sacrifices of those who went on before us. We must all finish the job Dr. Martin Luther King, Jr. and Septima Clark and Medgar Evers and so many other civil rights warriors struggled and sacrificed for.
We must make sure that our children and all of us know our history and that the atrocities that wiped out the lives of Chaney, Goodman, and Schwerner and countless others who died for freedom and justice during the Civil Rights Movement—including eight other black men whose bodies were only found as the FBI dredged Mississippi rivers and swamps searching for these three young men—do not ever happen again. We must all do our part to create a safe and hopeful nation for every child.
It is way past time for all adults to step up to the plate and make sure that the backwards slide for poor children is stopped and light a fire under ourselves to combat with all our might the continuing discrimination, dehumanization, and lack of public support and concern for children and youths of color and poor children in America.





The need for the Children's Defense Fund was first evident in Mississippi when the state turned down Head Start money in the new anti-poverty program after the summer of 1964 because they were trying to push poor black people out of the state and make sure poor children would not get the skills they need to survive in the economy and to become informed citizens.
We do not want to go back to those days again. We do not want to return to the old days when powerful segregationist members of Congress could eviscerate food programs for poor sharecroppers who attempted to vote, and when child hunger to the point of starvation was evident in Mississippi in 1965 and 1966 and 1967.
We must move forwards and not backwards to the not so good old days during that extraordinary summer of sacrifice that transformed America in positive and fundamental ways. It is time for a new transforming movement to end child and family poverty, hunger, homelessness and illiteracy in America.
Julia Cass is a Pulitizer Prize-winning journalist on assignment for the Children's Defense Fund. Marian Wright Edelman is President of the Children's Defense Fund