Mural Ready for Debut
8/13/2014, 1:15 p.m.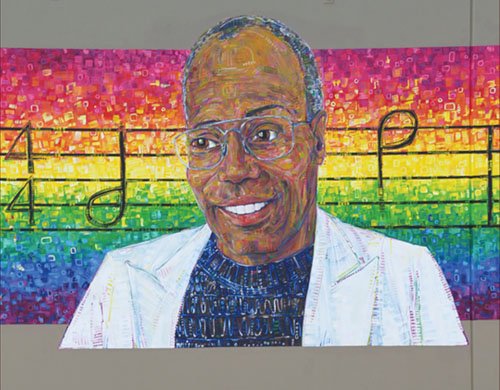 The Kirk Reeves Mural is complete, the scaffolding has finally come down, and a celebration is planned.
During the last two weeks of July, artist Gwenn Seemel spent all day every day painting her first professional mural, a memorial for Reeves, the black Portland musician beloved by commuters for his street performances at the foot of the Hawthorne Bridge in southeast Portland.
At 10 feet by 38 feet, it's the largest painting Seemel has ever done, and it is also one of the more emotional works she says she has ever created.
"I'm grateful to the Regional Arts and Culture Council for the funding it provided to make this piece happen," she said.
If you want to see the work up close, enjoy some food, and celebrate Reeves and art, you're invited to an open air art opening in the parking lot of the building where the mural is located at 430 N.E. Lloyd Boulevard. It's set for Friday, Aug. 15 from 6 p.m. to 9 p.m.