Reaching and Empowering Entrepreneurs
Startup business culture fostered
8/13/2014, 1:22 p.m.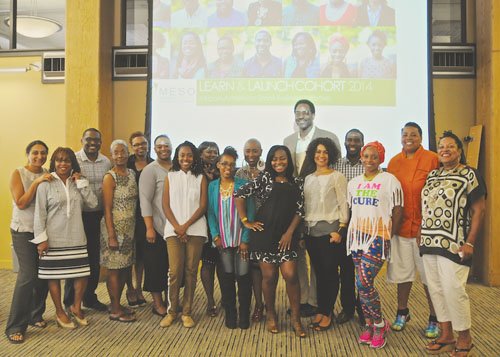 How does Portland support black aspiring entrepreneurs in a way that builds community, develops their skills and know how, and provides a roadmap to building viable small businesses in Portland?
This is the question that Micro Enterprise Services of Oregon (MESO), a Portland based nonprofit committed to reaching and empowering underserved entrepreneurs worked to answer. The persistent need and opportunity for business development in the African-American community fueled the creation of a pilot project called Learn & Launch.
Over the last six months, the pilot project worked with 20 local, aspiring African-American entrepreneurs.
Lead by Tory Campbell and Faye Burch, two black business leaders from Portland, the participants are obtaining traditional business planning services coupled with the support of a peer group and mentorship. Business concepts deemed viable then progressed to the next stages of launching.
The culmination of this intensive six-month program was a "pitch gathering" hosted by Portland Development Commission, where 14 participants displayed their business concepts, and encouraged attendees to interact with their products and services.
Participant Alisha Carter, owner of Rockin' Naturals, a business offering an array of natural hair care products, had this to say about the programs: "I am very grateful for the networking of people who have a vision to succeed. The coaching that I received was very beneficial and I am ready for the next steps."
The Micro Enterprise Services group seeks to improve the economic opportunities of underserved individuals through empowerment, education, and entrepreneurship for the benefit of the greater community. The project was PDC-funded which has been a long-term financial supporter of MESO.
Here is a list of the Learn and Launch participants and their businesses: Intisar Abioto, Intisar Abioto Photography; Carolyn Anderson, Let's Check; Alisha Carter, Rockin' Naturals; Cherrell Edwards, Collective Care Services; Chris Fuzell, Six Ten Visuals; Cat Goughnour, Radix Consulting Group; Audrey Horsey, Tru-lee Delicious Catering; Solomon Ibe, Xen Fusion; Ramona Johnson, Hair Body & Soul; Yvette Penson, Sweet Temptations; Emmanuel Price b, S.C.A.F.E 2; Renee Ward, It's All About You; Elsya Watkins, Sea Verdes; Kenya Smith, HB Property Management; and Jason Gershenson, Gershenson Law LLC.
For more information, visit mesopdx.org.