Stepping Up
Community bike ride a call for peace now and beyond
| 8/13/2014, 1:43 p.m.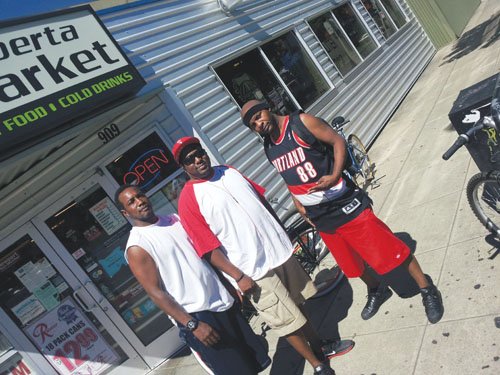 Hop in your seat, put rubber to the pavement and ride. You're invited to help take back the streets as the longtime Northeast Alberta Street non-profit Community Cycling Center hosts a public bike ride in response to a surge in violence by local youth and other young men.
The upcoming "Take Back the Streets" rally is the brainchild of two active north Portland residents DeMarcus Preston, 44 and Jason Washington, 44. They are members of a local group which explores the cityscape regularly by way of biking.
After a rash of summer violence that saw two young men killed in separate incidents within a week of each other, one in outer southeast Portland and the other in New Columbia of north Portland, they brought their idea to the cycling center. The fatal shootings of Andre Leon Coggins Jr., 24, and Hahrachio "HB" Branch, 26, have served as grim highlights to a summer that has seen its fare share of gunfire.
For Preston, a former gang member, it's about stepping up to make the community better.
"I've seen friends and family killed. I've been lucky enough to make it out, and I want to help others do the same," he said.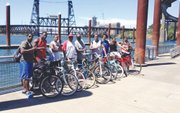 Within a month, Preston and other members of his bicycling group, joined members of the cycling center to turn their idea into an event with a budget. A Facebook posting after just 12 hours saw over 100 people expressing an interest in attending.
The cycling center's director of programming, Zoe Pillafas, calls the effort a model for true collaboration.
Thanks to some funding from Metro, a host of resources will also be available during the event, starting at 11 a.m. on Sunday, Aug. 24 at the New Columbia Bike Repair Hub on the corner of North Woolsey Avenue and Trenton Street in the New Columbia neighborhood.
Guest speakers will include World Arts Foundation executive Teressa Raiford, Emmanuel Price of SCAFE (Second Chances are For Everyone), Karin Malbourgh, a developer of school and after-school based programs, and Portland Public Schools teacher Cicely Rodgers, among others.
Organizations dealing in health, gang prevention, after-school programming for youth, transition services and more will also be a part of the day's going-ons.
Of course musical entertainment and food are on the agenda too. A healthy barbeque will be available at $5 a plate with all proceeds going to the Stop the Violence Foundation and Portland Interscholastic League reunions.
Perhaps most importantly, conversation will be on hand as well.
"Our purpose for this ride is to bring people together from the community to discuss and work toward positive alternatives to the violence we've been experiencing in our neighborhoods," said Washington, the event's co-creator.
Mychal Tetteh, who's been the chief executive officer at the Community Cycling Center for less than a year now, says given the opportunity, community-based initiatives like those brought to him by Preston and Washington are ones the center would like to continue supporting.
"Ultimately it was the initiative taken by members of the north Portland community, members of the African American community that served as an opportunity to support a community-based initiative. So whenever we're given the opportunity to support something as powerful and as meaningful as this event we will," says Tetteh.
A non-biking section of the event will begin on the same day at 2 p.m. at Columbia Park, the location for the end of the day's bike route. For those wanting to participate in the biking event but who don't own a bike, there will be 25 bicycles available on a first-come first-served basis. Those in need should indicate so on the online registration form at bit.ly/1od6FE6.
For more information on the event, visit the Facebook event page or contact Zoe Pillafas by email at zoe@communitycyclingcenter.org.
--Donovan M. Smith