Hands Up, Don't Shoot!
Portland voices solidarity with citizens of Ferguson
| 8/20/2014, 1:11 p.m.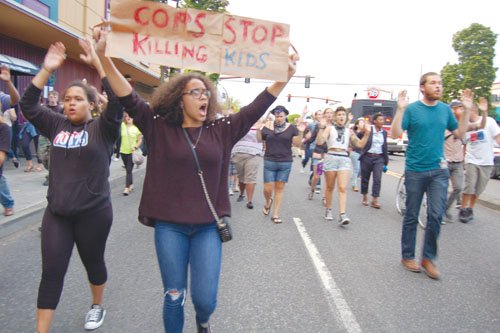 The police shooting death of a black teenager halfway across the country have Portland residents raising their hands and voices in solidarity demanding justice in the case.
Michael Brown, 18, was killed Aug. 9 in the St. Louis suburb of Ferguson, Mo. Witnesses said he had his hands up before being shot. An autopsy shows bullets hit him at least six times, with two of them striking his head. The officer has not been charged pending multiple investigations, including a federal civil rights probe ordered by Attorney General Eric Holder.
Portland protestors took to the streets by the hundreds for several hours on Friday, with chants like "Hands Up, Don't Shoot" and "No Justice, No Peace, No Racist Police."
The demonstration remained largely a peaceful one. Police did not confront the protesters or make their presence known.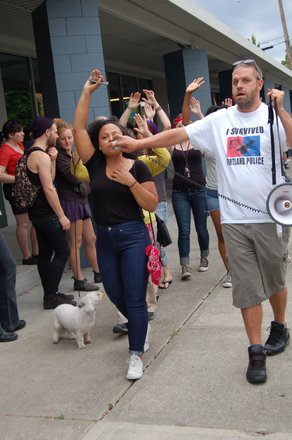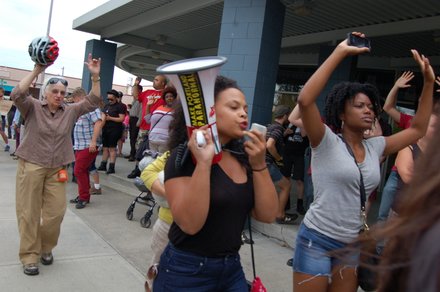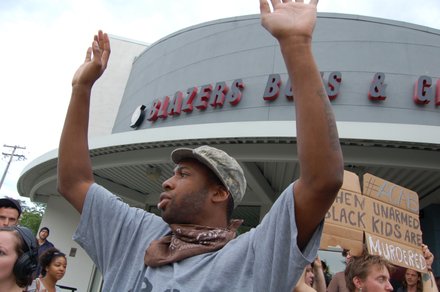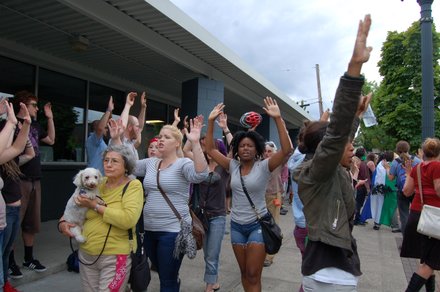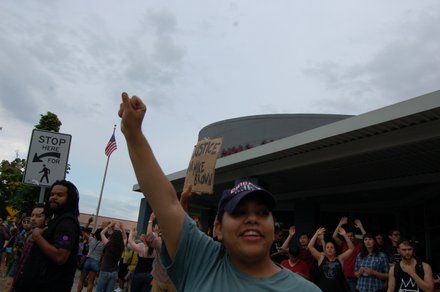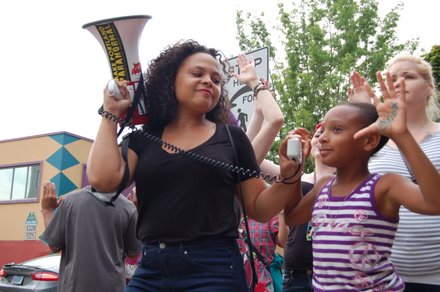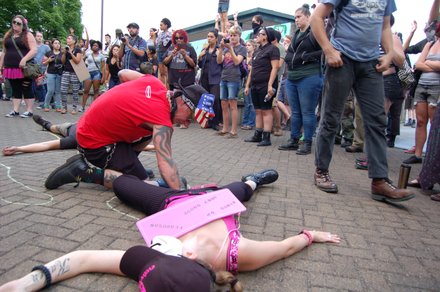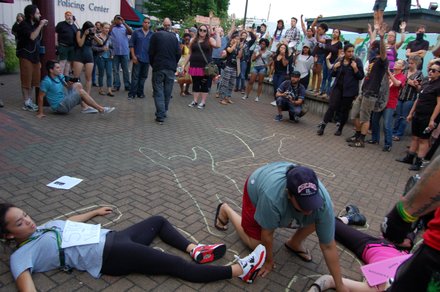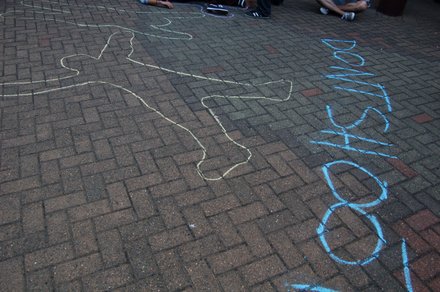 One demonstrator named Jahlani, said he wanted to make a stand against police brutality, and promote a group he hopes will act in part as a solution to ongoing violence, the West Kemet Panther Movement,
"It's a lot of murders that's been going on that people don't even know about and it ain't really being reported," he says. "It's not just a black or white thing, you know, we're human. So we gotta make sure we stand united against that blue shield because they don't want us armed."
Protestor Tee Love said Portland had its own share of "racially biased executions."
"Nothing is gonna change until these police start to realize there are consequences for what they do… People need to really, really get mad and people need to care as much about Mike Brown as they do Robin Williams (the comedian who just died of suicide).
Protest organizer Jessie Sponberg spoke with the Portland Observer as the demonstrators took to the streets briefly interrupting traffic along Northeast Martin Luther King Boulevard. He says citizens must "stay vigilant and stay in the streets."
"The next step is to let everybody know that our mayor is a failure, our police chief is a failure, our whole city council is a failure, and they're complicit in every one of these murders. And just remember that in 2016 we have a chance to elect a new mayor, and two new commissioners," Sponberg said.
Multiple anti-police brutality protests have broken out across the city in recent days, including ones at Pioneer Courthouse Square and Dawson Park. The historic park with African American roots will be the site for another demonstration planned in solidarity with Michael Brown and the citizens of Ferguson on Saturday, Aug. 23 at 1 p.m.
--Donovan M. Smith