Look to Your Left!
Bike lane on Williams Avenue switching sides for safety
| 8/20/2014, 12:42 p.m.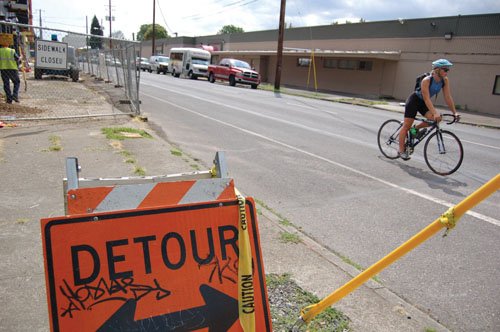 Of note, back in 1973 under Mayor Terry Schrunk, Portland adopted its first bike plan calling for 190 miles of bicycle infrastructure to be built in the city.
With many low income people, specifically black, moving to the outskirts of town in recent years, DePass says she'll be watching closely to see what efforts are made by the city to instill bike infrastructure on that side of town.
Rich Newlands, who took over as project manager of the Williams redesign from Ellen Vanderslice who started the public conversation about safety-changes on Williams back in 2011, mirrored Depass' statements that the neighborhood had been advocating for safety changes for years but came to no avail until the recent "neighborhood change," as he called it.
One new plan adopted to address the concerns is an $80,000 public art project set to honor the history of African American presence in the neighborhood.
"Things like the honoring history component of the project, is definitely a result of that conversation about how the city needs to think of this as not just a matter of transportation, but needs to think more holistically about what this project means to this neighborhood, again, the history of the neighborhood and issues like gentrification and neighborhood change," Newlands said.
An artist or artist team has yet to be chosen to fulfill this instillation, but has been narrowed down to a handful of potentials.
Taking cue from the advisory committee, Newland says Portland Bureau of Transportation will be monitoring the project's success after its completion using a method that is "part data" and "people's impressions" about the street and neighborhood feeling safer.
"We want to continue the conversation with the community, continue to make myself available to come out and meet with the neighborhood associations, and ask, you know, 'how is it working, are we meeting those goals?'
Newland says much of the current functionality of Williams Avenue is a "relic of '60s planning."
--Donovan M. Smith