No Law-Abiding People Should Fear Police
My focus on the lives of young black men in Portland
8/20/2014, 11:49 a.m.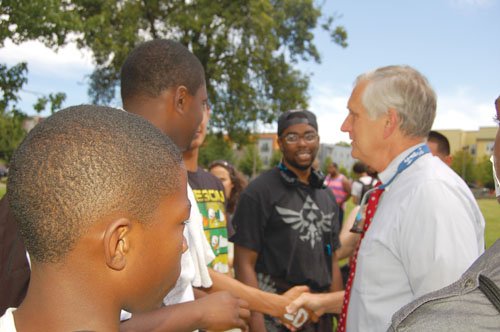 My thoughts and prayers go out to the family and friends of Michael Brown, the young man shot in Ferguson, Mo. My thoughts and prayers go out to the entire community of Ferguson. And also to the African-American community in Portland, and throughout Oregon, and throughout our nation.
No law-abiding people should ever have reason to fear the police. Yet we must honestly admit that, too often, this is not true for a wide swath of our community: people of color.
That's why I've made it a priority to join with many of my fellow mayors to focus on the lives of young black men in our community. Mayors like Michael Nutter in Philadelphia, and Mitch Landrieu in New Orleans, and I are focusing on this very topic through the Black Male Achievement Initiative.
In Portland, we are focusing on ways to collaborate with the community and to intercede on behalf of young African-Americans in the areas of jobs, education and incarceration rates. This is vital work. That is as true in Portland as it is everywhere.
Also in Portland, we have put a priority on new training for our Police Bureau, with an emphasis on the appropriate use of force, on de-escalation and on equity. Bureau members have begun receiving training on systemic inequities, implicit bias and cultural diversity.
In July, as mayor and police commissioner, I joined in three intensive days of training for my staff and the top officials of the police department, on these very topics. The training, called White Men as Full Diversity Partners, was controversial to some but understood by many. But this week's headlines provide just one example of why such training is vital.
We, as a society, have consistently failed multiple groups of Americans. We cannot continue to do so in the future.
Charlie Hales, Mayor of Portland