Poised for a Breakout Fight
Portland boxer hopes to punch ticket to the pros
Mike Bivins | 8/27/2014, 11:30 a.m.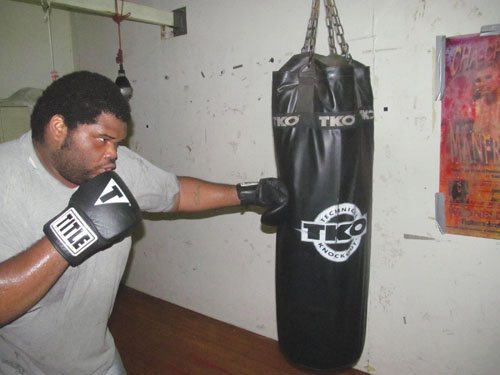 "#75 Quincy Blanton!" blares the football field's PA system.
"N-word!" responds voices in the crowd. The bad behavior by Hermiston's football faithful was heard as each of Jefferson High School's African-American players were introduced.
But poetic justice was served this day as, according to Blanton "we beat the slop out of them."
After winning the first round game against Hermiston, Jefferson would go on to be eliminated in the second round of the 2006-07 state 5A football playoffs. However, Blanton and his Jefferson teammates won a moral victory that year as their squad from north Portland defied expectations with its limited roster of players. This, along with the aforementioned bigotry on display, is a microcosm of the uphill battle Blanton has faced as a result of growing up as an African-American in Oregon—a state with a checkered past in regards to equality.
Blanton, a powerhouse offensive lineman standing 6 foot 1 and weighing over 300 pounds, proved he had what it takes to go to the next level. Blanton would spend the next football season at Butte College in northern California, paving a way for future NFL running back Alex Green en route to a season capping victory at the Stockman's Bowl.
Blanton was being recruited by several NCAA Division 1 schools; he just had to pick his grades up.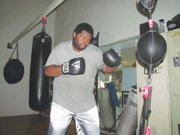 However, Blanton's Division 1 dreams were not to be as his funds to pay for college tuition dried up—necessitating a return to Portland. After a short stint as a hospital transportation aide, he was let go by the company. Two years of an economic downturn and the entrenched inequity Portland offers didn't help. Make no mistake—Blanton wanted to work. In his estimation he was simply held down by the same latent attitudes that the Hermiston crowd let spill over.
Even with a spotless criminal record, Blanton was unable to find entry-level work with employers such as Taco Bell and Subway. Undiscouraged and a competitor at heart, he continued filling out applications. In the meantime, he enrolled at a Brazilian Jiu-Jitsu school. Brazilian Jiu-Jitsu eventually gave way to boxing, as well as a job at UPS and a bouncer gig in downtown Portland. Things seemed to be looking up for Blanton.
Eventually, he built his way up to a respectable 4-1 amateur boxing record. However, his road to victory has been rocky as finding willing opponents to match up with his weight. His boxing debut at the University Club in downtown Portland was, in his estimation, a robbery. He felt like he beat his opponent Tony Castro with the jab alone. Blanton was granted a rematch; he got his revenge via unanimous decision. A match to complete the trilogy is on the horizon.
In Blanton's short boxing career there have been multiple instances of opponents getting cold feet. At a Beaverton Police Activities League event, Blanton's opponent was a no show. At the Keizer Lyons Club Blanton was supposed to fight Albany's David Olah; Blanton's then manager allowed Olah's camp to look at Blanton's book. Olah, upon seeing the 4-1 mark and the four fight win streak, refused to fight.