Hip Hop Renaissance
St. Johns rapper refines his craft
Mike Bivins | 12/17/2014, 2:50 p.m.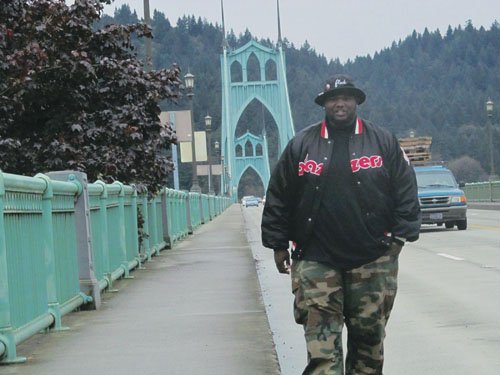 St. Johns is a unique slice of north Portland with its own history and a distinct feel that you can't get in other parts of town. When you step off a bus caught downtown an hour earlier to find yourself in St. Johns you really feel like you are not even in Portland anymore. That unique look and feel probably has a lot to do with the fact that up until 1915 St. Johns was its own city.
Today residents like Mic Capes are making St. Johns a center of the local hip hop scene. I travelled the hour on Trimet's #4 bus to speak with him.
We sit at the St. Johns Starbucks and Capes, 25, tells me his story. Growing up, he had a turbulent childhood. He went to five different elementary schools, and frequently moved from house to house, motel to motel, as well as being in a foster home.
He also battled epilepsy from the 4th to the 7th grade, until one day he made the decision to stop taking the medication and has been symptom free ever since, "I chalk that one up to God," he says.
Capes started putting his thoughts to words with poetry in the fifth grade as an outlet for expressing himself. Eventually, he observed another foster kid in his home rapping, and figured he would try his hand at it. Ever since, he's been working to refine his craft.
Counting Tupac, Nas, DMX and Scarface as his biggest influences, Capes spends his time performing at local venues such as Mississippi Studios either solo, or with local hip-hop contemporaries Glenn Waco and Rasheed Jamal—collectively known as The Resistance.
"We're a collective man," he explains, "We do our solo thing, but we also come together as a unit and do music." Interestingly, Capes initially connected with Jamal while getting his haircut in Terrell Brandon's barber shop on Northeast Alberta Street.
You can get a good glimpse of what the three bring to the table on Cape's song 'The Resistance', also featuring Jamal and Waco, and conveniently located on YouTube with over 5,000 views to date.
We are briefly interrupted by a passerby who recognizes Capes. I joke with him about being locally famous and he attests to getting accused of that frequently.
As I can tell from the childhood stories, Capes' road to putting out his first album Rise & Grind has not been easy.
"We found ways to get money man," he said.
Explaining the trials and tribulations of growing up poor, he gives me a couple of tales of childhood adventures that had me bursting at the seams with laughter.
First as Capes explained that if you put a can on a stick and insert it repeatedly into the return machine you could fool the machine and get a nickel refund; and second when he tells me about the times his friends (Capes never actually participated in the act), would run onto an idling bus, swipe the unpunched transfers, find out the punch code for the day, and help themselves to free bus rides.