Trader Joes deal collapses after public outcry
It's back to the table for PDC and the community
| 2/4/2014, 4:11 p.m.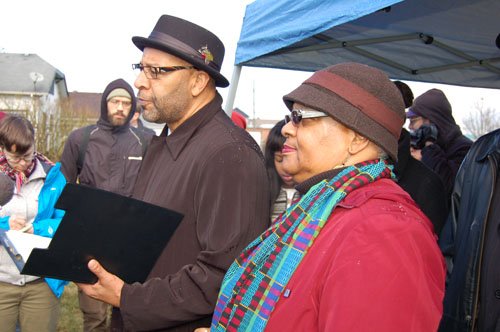 Specialty grocer Trade Joe's has pulled out of a controversial deal with the Portland Development Commission and Majestic Realty Co. of Los Angeles that would have seen the construction of the store outlet on a long-vacant two-acre stretch of land at the corner of Northeast Martin Luther King Boulevard and Alberta Street.
Monday's decision by the national retailer has left local community members, business owners and the city questioning what's next for this prime section of property, designated in long-range planning as the second half of Vanport Square, a commercial center serving the heart of Portland's historic African-American community.
Trader Joe's withdrawal was announced by a company spokesperson early Monday. It followed some loud protests from members of the community that the $8 million development had the potential to further the gentrification of nearby neighborhoods and lacked community participation in the PDC decision making.
Reader poll
Yes

23%

No

59%

Unsure

7%

Need more information

11%
56 total votes.
"We think the Vanport Square area in northeast Portland is a great neighborhood and we had been interested in opening a store there. Given negative reactions from the community—about our arrival, we will not be opening a store in the area," a statement for the company said.
Trader Joe's said it only opens a limited number of stores each year, in communities across the country. "We run neighborhood stores and our approach is simple: if a neighborhood does not want a Trader Joe's, we understand, and we won't open the store in question," the statement said.
The Portland Observer reported on the controversy surrounding the PDC deal back in November. Terms provided for a $2.4 million break on the cost of the property and space for 4 to 10 other businesses and 100 surface parking spaces.
PDC Social Equity Director, John Jackley, acknowledged gentrification in north and northeast Portland as "the primary issues" for the city of Portland at the time, but denied claims by some African American community members, leaders, and organizations that a Trader Joe's addition would play any role in further displacement.
Members of the local civil and social engagement group, Portland African American Leadership Forum (PAALF), held a pre-scheduled press conference Monday at the development site, coming just hours after Trader Joe's had withdrawn from the project.
Tony Hopson, former Sen. Avel Gordly, Steven Gilliam, Maxine Fitzpatrick, and other members of PAALF, spoke at Monday's press conference.
Fitzpatrick, also executive director of the nonprofit housing provider, Portland Community Reinvestment Initiatives, presented a list of demands of behalf of PAALF. It called for readily available and accessible numbers and details on economic development spending in the Interstate and Oregon Convention Center Urban Renewal Areas, and the creation of a "Vanport Small Business Assistance Fund" to support the small businesses that have set-up shop in and around Vanport Square.
Lastly, the activists want a legally enforceable community benefits agreement, negotiated by an independent community-controlled body that would ensure the employment of African-Americans and other disadvantaged community members in construction jobs as well as employment in newly established businesses.
PAALF repeatedly asserted that their concerns and demands were "never about Trader Joes," but about stopping the further Diaspora of blacks in the city, and providing affordable housing options for people of color and others to return to the neighborhood.