Night of Comedy a Valentine Twist
Stories from the dark side of dating
2/5/2014, 10:56 a.m.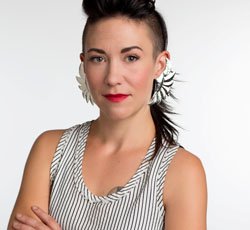 Advocates of Planned Parenthood offer a unique twist on Valentine's Day with "It's Not Me, It's You: Stories from the Dark Side of Dating," a night of comedy on Wednesday, Feb. 12 at the Mission Theater, 1623 N.W. Glisan St.
Standup comic Stephanie Purtle will host the festive evening in which some of Portland's sharpest storytellers have agreed to share hilarious memories about their worst dates ever.
The storytellers include Michelle Lesniak, fashion designer and Project Runway, Season 11 winner; Wm. Steven Humphrey, columnist and humorist for the Portland Mercury; S. Renee Mitchell, African American women's advocate and author; Rick Huddle, performer and storyteller; Marjorie Skinner, managing editor and style columnist for the Mercury; Vin Shambry, artist and writer; Jason Rouse, writer; and Hannah Love, political activist.
Tickets are $20 at the door or $18 in advance from CascadeTickets.com.