Change Agent
Issues of race and disability move into the spotlight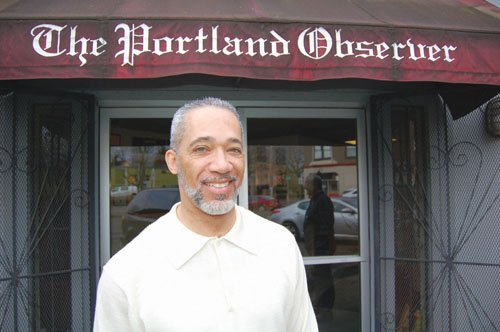 Issues of race and disability have moved into the spotlight at City Hall thanks to Portland's first ever Office of Equity and Human Rights.
Dante J. James, the office's first bureau director, presented an annual report on the work accomplished by the department to the full City Council last month and recently met with the Portland Observer to help build public support for the mission.
"What's important is to tell what has been done," James says. "The community wants to know."
Since its creation two years ago, the office has helped improve contracting and employment opportunities for people of color and people with disabilities; made equity part of the city budget process; conducted equity training for 600 employees at over half of the city's 26 bureaus; and created a citywide equity committee; among other things.
The Office of Equity and Human Rights was created two years ago to resolve issues rooted in bias and discrimination. The office is charged with recognizing and removing systemic barriers to the fair and just distribution of city recourses. The goal is supporting human rights and opportunity for everyone to achieve their full potential.
James says diversity is a component of equity. For example, he says public officials can't be satisfied when a pool of job or contracting applicants lacks diversity, "That's where we come in and look at where was the lack of access? What were the barriers?"
The office can't make city bureaus hire more people of color, for example, but it can influence their hiring decisions, he says.
Studies show that in Portland and Multnomah County, communities of color, people with disabilities and low-income residents fare far worse than residents in other cities in educational achievement, income and economic prosperity, health outcomes, and affordable, secure and viable neighborhoods.
James says he wants to change the narrative that Portland is one of the whitest cities of the top 50 cities in the country and therefore can't have significant issues with race.
"That belies the fact that 25 percent of the population of Portland are people of color, and that half of the students in the public school system are people of color, and 1 in 5 Portland residents are foreign born," he says.
James was asked about the issue of gentrification and the displacement of people of color from their historical neighborhoods.
He said he's never been anywhere like Portland, where minority communities have been bulldozed out of existence.
"The abuse that occurred previously needs to be accounted for as we move forward," he says.
James says while his office is focused on barriers with regard to race and disabilities, its success can have a positive impact on other populations.
"If you improve aspects on race, you will improve results across all the spectrums," James says.