Portland International Film Festival Comes to Life
Screenings get past weather warnings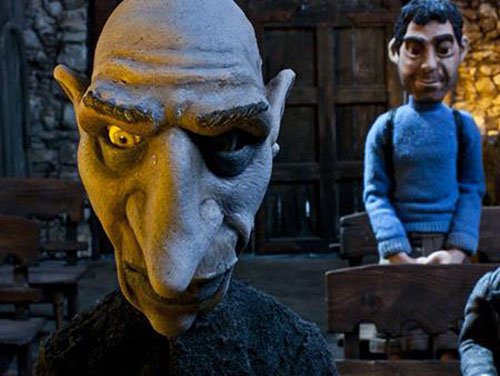 The Portland International Film Festival trudges on through all kinds of weather -- and I found a decent turnout at the screenings I attended on Saturday, though Sunday's screenings were cancelled after emergency warnings went out encouraging Portlanders to stay home.
These interesting films (which I have rated on a 10-point scale) will all screen again during the festival:
"The Apostle" (6.5) is a darkly humorous window into a part of Spanish culture seldom seen by Americans. It's a stop-motion animation story set in a remote Galician mountain village whose denizens are all aged and whose friendliness seems a bit aggressive.
Ramon, an escaped convict, poses as a religious pilgrim as he passes through the village but is really looking for a stash of jewels hidden there years earlier. He's no hero, but he might be when compared to the village denizens, who seem to be up to no good.
The story takes a bit too much time to unfold into its more suspenseful third act, but the film is never boring, and provides a quirky look into a world of spirits and superstition that is characteristic of Galician culture.
The plot probably doesn't really hold up to much scrutiny but is still entertaining, and features a wonderfully atmospheric soundtrack composed by Philip Glass. (Plays again on Feb. 19)
"Of Horses and Men" (7) is a surprisingly engaging set of stories involving relationships between horses and people in a hamlet in Iceland. It features beautiful shots of the Icelandic countryside and close-ups of the horses that capture their taut grandeur.
The film opens with a proud and fastidious man and his connection to his beautiful mare; he attracts the attention of everyone in the village as he rides her, perfectly erect, through the community to visit his lady friend -- and then he is horrified by an unwanted encounter with the woman's stallion (a particularly stunning sequence).
Other stories unfold involving a man who rides his horse into the sea, on a mission to procure vodka from a Russian trawler; a young Swedish woman who demonstrates that she is the boss of all the horses in this horse-friendly town; and the dilemma faced by a Spanish-speaking tourist who gets separated from his riding group as the sun goes down.
"Of Horses and Men" is never less than arresting, and also captures the quirky, dry humor of this stark Icelandic community. A must see, especially for those who appreciate horses. (Plays again on Feb. 12)
"We are the Best!" (4) is less successful. It focuses on the friendship between two 13-year-olds in Sweden in 1982 who decide to form a punk band even though neither plays a musical instrument. They eventually find a third girl with actual musical talent to join them, and encounter a few trumped up obstacles due to that girl's religious family's objections. Otherwise there isn't much in the way of a plot; instead, we are treated to scene after scene of the girls giggling and complaining about their parents and scheming about their band and playing terrible punk music.