Portland International Film Festival Comes to Life
Screenings get past weather warnings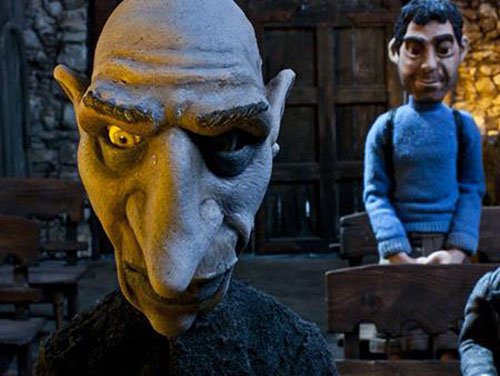 "We are the Best!" quickly becomes tiresome, even though the kids are sympathetic and intermittently engaging. (Plays again on Feb. 12)
I am a sucker for any film that gives a voice to people who have been silenced or forgotten. "A World Not Ours" (8), my favorite of the festival so far, does just that. The director of this documentary, Mahdi Fleifel, grew up mostly in Europe, but has made regular visits all his life to Ain el-Helweh, a Palestinian refugee settlement inside Lebanon. Building on a long family tradition of documenting everything on video, the filmmaker takes advantage of his family's extensive video archive to provide us with a window into the community where his 82-year-old grandfather has lived for more than 60 years.
What we find is a world of forgotten people, consigned to a sort of limbo in which they are not allowed to work or aspire to anything. Watching the light slowly dim in the eyes of the director's grandfather, uncle, and a young friend is profoundly sad and provokes necessary reflection on those left behind in conflicts like the Palestine-Israeli conflict. The film, oddly, gives us almost no sense of the women in this community, but it is a true ministry of presence to the men. (Plays Feb. 14 and 16)
I hope no U.S. filmmaker decides to make a biopic about Lech Walesa, the leader of Poland's Solidarity movement, because it is way more satisfying to watch "Walesa: Man of Hope" (7). The film tracks the 19-year period in which the young Walesa rose from a simple shipyard electrician into the leader of a movement that toppled the Communist system in Poland.
I suspect that the politics here may be a bit too complex to really do them justice, but the filmmaker wisely focuses on Walesa's ballsy personality and his relationship with his longsuffering wife Danuta. The actor who plays Walesa bears an uncanny resemblance to the real hero and the film feels very grounded in Polish culture and experience. Now if this fascinating film can just find an audience here in the U.S. (Plays Feb. 17 and 20)
These films have completed their festival run, but are worth watch watching for on Netflix or a DVD release:
"The Good Road" (7.5) is a depiction of a part of Indian culture that rarely makes it to American audiences. It is set in the rural desert roads of Kutch, a remote region of Gujarat, and features three intertwined stories of journeys gone awry.
The first story involves a middle-class city couple who, en route to their vacation destination, inadvertently leave their seven-year-old son behind at a roadside restaurant. Their ordeal intersects with that of a taciturn truck driver and his assistant, who are embroiled in an illegal scheme. The two end up traveling with the missing boy, and part of the film's charm is watching the boy worm his way into their companionship.
The final story involves a young orphan girl who is trying to get to the city where her grandmother lives, and encounters a strange and lovely community of young girls. The film's handling of the menace underlying this community is interestingly understated. The filmmaker has a delightfully subtle approach to developing these characters and the ominous dangers that beset them, along with the color and the sense of a sort of code that governs the communities in this sparse area of India.